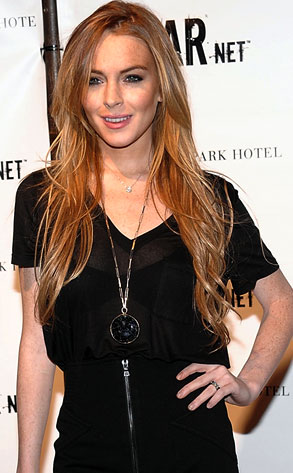 Jason Kempin/Getty Images for FEARnet
Lindsay Lohan has taken an eleventh-hour stand.
We don't know whether she's actually going to stand in line at the polls Tuesday (hey, she'll get free Starbucks afterward) or if she's a mail-it-in kind of gal, but we do know that she's all about voting, thanks to her latest blog entry endorsing the seeming man of the hour, Barack Obama, and voicing her discontent for Proposition 8, California's ballot measure to unlegalize gay marriage.
In a post titled "VOTE," she apologizes for not blogging for awhile, and then gives us her get-out-and-vote spiel:
"I cannot say how important it is for everyone to get out there and vote tomorrow... The future of our country depends on it. Just one vote can make such a difference... Vote—because your thoughts are worth it..VOTE—because YOU can make this country a better place...VOTE—because you can.
"PLEASE!!!!!!!!!!!!!!!!!!!!"
She goes on to say "yea" for Obama, including a little smiley face emoticon with her endorsement, and no on Props 8 and 4, the latter of which would require a doctor, before performing an abortion on a minor, to notify the girl's parents at least 48 hours before doing the procedure.
Wow, we knew LiLo liked to blog...but who knew she was so up with the issues?