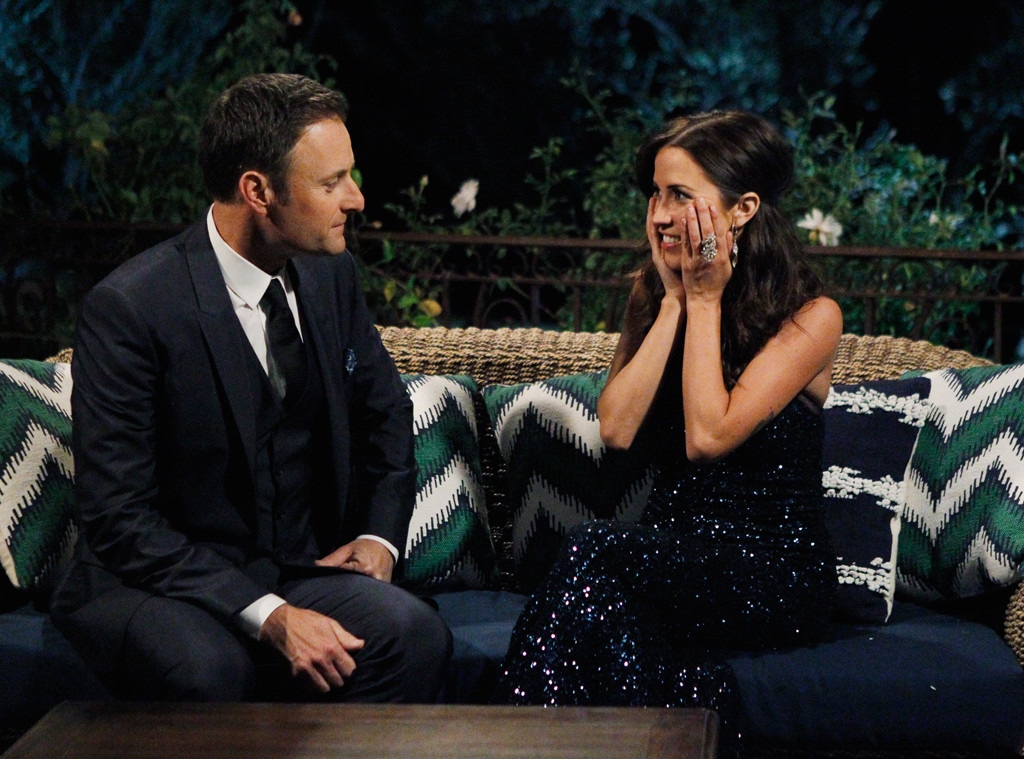 Rick Rowell/ABC via Getty Images
Let's talk about sex, baby. 
That's all anyone in Bachelor Nation seems to be talking about these days after The Bachelorette's latest episode, which found Kaitlyn Bristowe sleeping with contestant Nick Viall ahead of the fantasy suites, later saying, "It came out of nowhere." 
After the shocking episode aired, Kaitlyn opened up to E! News about the "overwhelming" backlash she's been receiving since the super-tease aired at the beginning of the season and revealed she slept with one of the men. And now, host Chris Harrison is opening up about the "divided" reaction to the Bachelorette, who was a universal fan-favorite during her time on Chris Soules' season. 
"What I find is this very divisive reaction to her, very divided, and some people are strongly behind her, like Amy Schumer, then there are others who are shocked and appalled. I think if you just go by social media, obviously, the negative idiots are the loudest. People who care or are positive usually aren't going on and ranting on social media," he exclusively tells E! News. "It always seems a lot worse than it is. I think the majority are either behind or or honestly aren't that appalled or that amazed by it all. So I think you need to be careful where you're taking your Litmus test or temperature of America."
He also adds that while it's easy to "get caught up in Instagram and Twitter," the feedback from those sites aren't actually indicative of how the majority of viewers feel about Kaitlyn and what happens on the show. "Most people in this country aren't on Twitter, shockingly enough! So I think the majority of people are, like I am, behind her. And all they want, and I think all anyone wants, is just to be open and honest and own it if you made a mistake. If you think it was a mistake, admit it, say it."
But he also echoed what Kaitlyn told us about not regretting the act itself, just the potential impact it could have on her other relationships on the show. "What she did, she doesn't say is a mistake. The only real regret she has is she may hurt some of the guys."
While Harrison acknowledges that "sex happens sometimes" on the show, he does admit "it typically doesn't happen before fantasy suite time." But you know what? "So be it."
"They're grown adults and they're looking for love. I wasn't that appalled. Would you do it? That's a different question? Would I do it? That's a different question. But she chose to do it," Harrison says. "They were two adults who decided to literally do it."
And while he isn't at all OK with the backlash Kaitlyn has been receiving, Harrison does "love" the discussions The Bachelorette can ignite. "One of the things that I love about the show and I will continue to always find incredible, is the social issues that we push, the social issues it brings up, the debates, all of it. The things that people find appalling or interesting or upsetting, you never know what it is."
As for how much of Kaitlyn and Nick's hookup would be shown during the episode, Harrison says there were "debates" among the Bachelorette team, but it's nothing new for the franchise. (Harrison cites producers having to decide "on a completely different spectrum" how to handle Eric Hill's portrayal on Andi Dorfman's season of The Bachelorette when he died in a paragliding accident just before the season began airing.)
"There was that line, for sure. There always is on our show of like, what do you show, what do you not show, for a lot of reasons. For story, for not giving away an ending, whatever, so we obviously have those debates. And then the network's involved with that line of decency," he explains. "You have to tell the truth, but...I know there's probably families and kids watching, so how do you get your point across without getting the point completely across? [Laughs.] So I think we did, I think we walked a nice, fine line."
But don't expect the rest of the season to be any less dramatic for Kaitlyn as Harrison teases "a rollercoaster" from here to the finale. 
I think we're pretty close to showing the most dramatic thing, so it doesn't get any lighter as we head into the rest of the season with Kaitlyn. It's a rollercoaster ride. She steps on some land mines from time to time," he teases. "But I think it's a great season. It's different, it's completely different from how anything else has gone. And the fact that we have two couples coming out of it, Clint and JJ and hopefully we have the possibility of Kaitlyn with somebody! I don't know if Clint and JJ are together, I shouldn't say that!"
The Bachelorette airs Mondays at 8 p.m. on ABC.