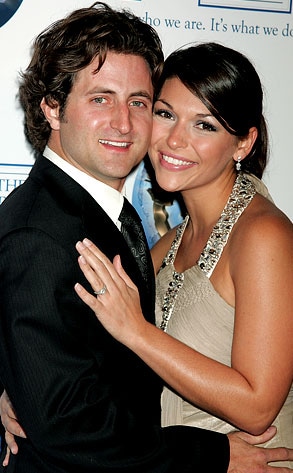 David Livingston/Getty Images
The plexiglass surrounding the rarity that is Trista-and-Ryan just got a bit thicker.
DeAnna Pappas and fiancé Jesse Csincsak have called off their engagement, barely four months after the once-scorned Bachelor castoff tearfully and lovingly accepted the pro snowboarder's proposal on the season finale of The Bachelorette.
The duo had been planning to tie the knot May 9, 2009, and had even started a website to track their whirlwind courtship.
"I really felt like I was going to spend the rest of my life with him. I thought he was my fairy-tale ending," Pappas told In Touch Weekly. "But after the show was over and we settled in to our normal lives, I slowly came to realize that we are two totally different people and it wasn't going to work out."
Taking the moral high ground (and avoiding Shayne Lamas on the low road), Pappas said that she will be donating her multicarat Tacori engagement ring to charity.
But while this breakup has earned The Bachelor/Bachelorette franchise another black eye as far as long-term love goes, Pappas says that she isn't giving up on love—no matter how hard it is to come by on ABC.
"More than anything, I want to find someone I can spend the rest of my life with," she said.
On the other side of the coin, meanwhile, it sounds as if Csincsak still thought he had found that person.
"I guess I would say I'm sorry for whatever I did to make you not want to be with me," the erstwhile last-man-standing told Extra Monday, if asked if he had any last words for his former fiancée.
"We took time apart," he said, explaining how Pappas called it quits. "She came back to Colorado [this weekend] and told me, 'I love you, but I'm not in love with you.' I picked her up from the airport and she told me while I was getting her bags."
And although Csincsak's a little weirded out because Pappas went ahead and told some of their "business associates" after agreeing that they would issue a statement together—and despite the fact that he says she's only been affectionate recently in front of the cameras—he still wants only the best for her.
"I love that woman. She is an amazing person. I am willing to work through it. I love her...I love the way she made me feel. She made me feel like no other…I don't want to fight for a lost cause. I just want her to be happy whether it's with or without me."
[Tear.]
Well, depending on ABC's do-over policy, Pappas could always sign up to vie for the guy she could have picked, single dad Jason Mesnick, on the upcoming season of The Bachelor.