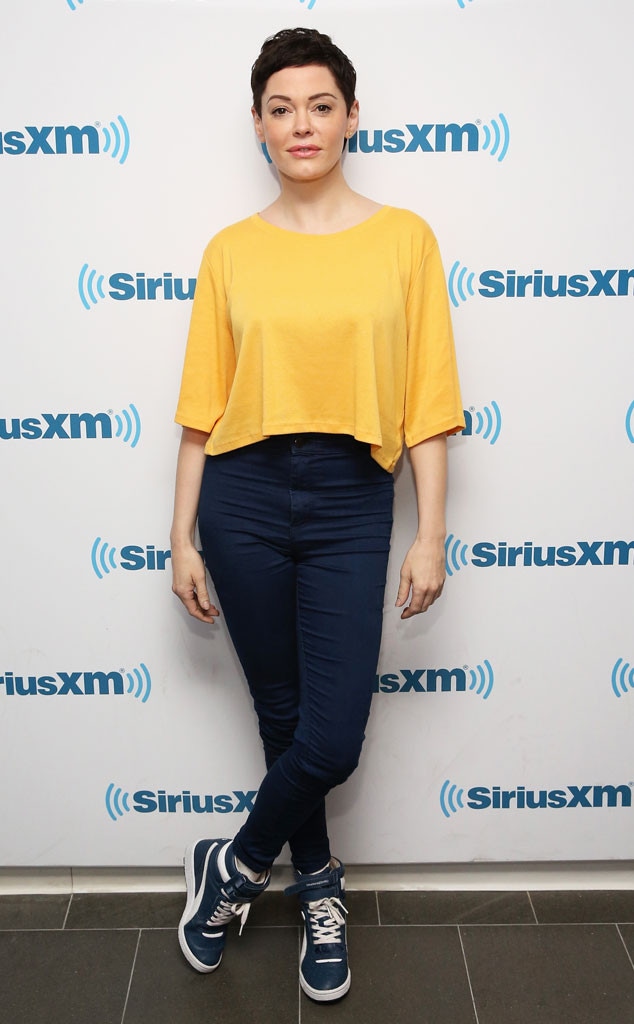 Robin Marchant/Getty Images
Rose McGowan isn't afraid to speak her mind.
Last week, the actress tweeted about an upcoming Adam Sandler project, writing, "casting note that came w/script I got today. For real. name of male star rhymes with Madam Panhandler hahahaha I die."
The casting note was very specific. "Please make sure to read the attached script before coming in so you understand the context of the scenes," it read. "Wardrobe note: Black (or dark) form-fitting tank that shows off cleavage (push-up bras encouraged). And formfitting leggings or jeans. Nothing white."
In hindsight, McGowan says, "It was just so dumb. I was offended by the stupidity more than anything. I was offended by the fact that went through so many people's hands and nobody red flagged it. This is normal to so many people. It was probably even a girl that had to type it up. It's institutionally OK."
The Dawn director says she never heard from Sandler or the wardrobe department after making the casting note public. "The wardrobe part was dumb enough. The part that made me laugh was where it said, 'Make sure you read the script so you understand the context of the scene,'" the 41-year-old actress tells Entertainment Weekly with a laugh. "That was the part that made me laugh the hardest."
"I'm not trying to vilify Adam Sandler," McGowan says. "Although someone did tell me that when he did his Netflix deal, he said, 'I signed with Netflix because it rhymes with Wet Chicks.' I mean, what? What in the f--k is going on? No!" Indeed, when Sandler's Netflix deal was announced last fall, he said, "I immediately said yes for one reason and one reason only. Netflix rhymes with Wet Chicks."
Regarding the role she was being considered for, McGowan admits she doesn't know the specifics. "I guess it's a movie. I don't know. It's so weird that it even came to me. They're not serious about having me in the movie. I don't think I'm a natural pairing," she jokes. "My thing is, watch out what you ask for."
McGowan isn't worried about losing a potential job. "They're not going to want me in that role! That's OK because I don't want to do it anyways. So there!" the actress says. "It's just the institutional stupidity and the institutional infantilization of actresses. Like an actress isn't going to look like her A-game. We need to remind her. My favorite part was the parenthesis: 'Push up bras encouraged.'"
The actress has been experiencing sexism in Hollywood for decades. "When I did my first film, I was told by my agent that I would need to have long hair so men in this town would want to f--k me and hire me," she recalls. "That was said to a 17-year-old," she recalls. Over time, McGowan realized how weird show business is. "I found a lot of things about the accouterments of Hollywood silly—especially the red carpet. My thing was, if I'm going to do a red carpet, let's play with it. You want me to be your show pony? I'll be your show pony. You want to play? Let's play. You want to f--k with me? I'll f--k with you."