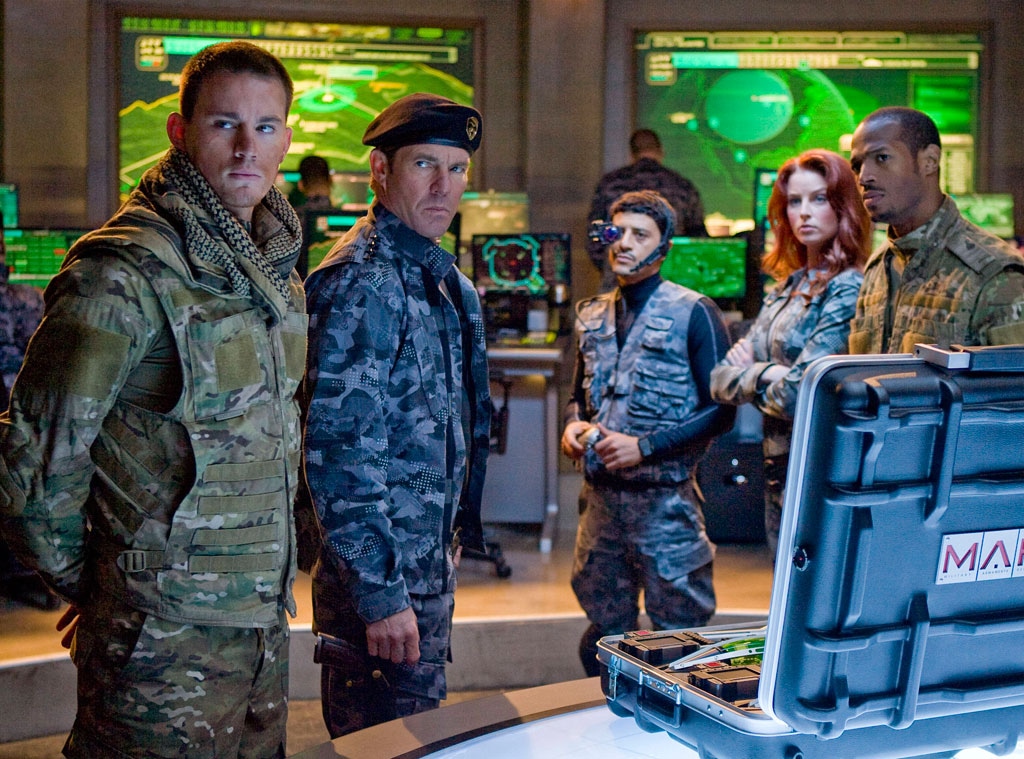 Frank Masi/Paramount Pictures
Regrets? Channing Tatum has a few.
Chief among them is agreeing to star in Paramount Pictures' G.I. Joe: The Rise of the Cobra, directed by Stephen Sommers and written by Stuart Beattie, David Elliot and Paul Lovett. The action movie, which was released in 2009, grossed $302.4 million worldwide and also starred Adewale Akinnuoye-Agbaje, Lee Byung-hun, Christopher Eccleston, Brendan Fraser, Joseph Gordon-Levitt, Sienna Miller, Rachel Nichols, Ray Park, Jonathan Pryce, Dennis Quaid, Said Taghmaoui, Arnold Vosloo and Marlon Wayans.
"Look, I'll be honest. I f--king hate that movie. I hate that movie! I was pushed into doing that movie, from Coach Carter," Tatum said during an interview on Howard Stern's Sirius XM Radio show Tuesday. Stern was surprised, as he thought the role was indicative of Tatum's future in film. As Tatum recalled, the studio had "signed me to a three-picture deal." As a young actor, he said, "You're like, 'Oh my God, that sounds amazing!' I'm doing that!' Options go from like $60,000 to like $80,000 to like $100,000. I'm like, 'Oh my God, that's so much money!' Even if I just get one other of those movies, I'm good. So time goes by and you get other jobs and you're building your quote and things happen and you have a dream job that you want to go do, and the studio calls up and they're like, 'Hey, we got a movie for you. We're going to send it to you.' And it was right during the writers' strike. And it's G.I. Joe. I'm like, 'Look, G.I. Joe? I love G.I. Joe. Can I play Snake Eyes?' And they're like, 'No. You're not playing Snake Eyes.'" The actor insisted that had no choice. "'Hey, you're doing this. You're doing this or we're going to sue you.'"
Stern said most people would be "thrilled" to play the title role, but Tatum said, "The script wasn't any good." Plus, he had watched the show since childhood, and he thought that the movie was simply "bad."
After the film's release, offers came pouring in. "You get another G.I. script, because that's what you get. Or you just get another action movie or something, which isn't bad either. I don't know. I've always tried to change it up," said the actor, who next starred in the adaptation of Nicholas Sparks' novel Dear John.
Starring in the action flick didn't open the doors he thought it would.
"The Coen Brothers aren't watching G.I. Joe," Tatum explained.
Tatum was unaware that the original script was written with Mark Wahlberg in mind. "Maybe I should have done my Wahlberg impression for the whole movie," he joked. "The movie might've been better!"
He was also "a little" surprised that the film was a financial success.
In spite of his grievances, Tatum didn't want fans to think that he was ungrateful for his early success. "I'm super lucky and blessed to have been given that film," he told Stern. "That was really not that bad."