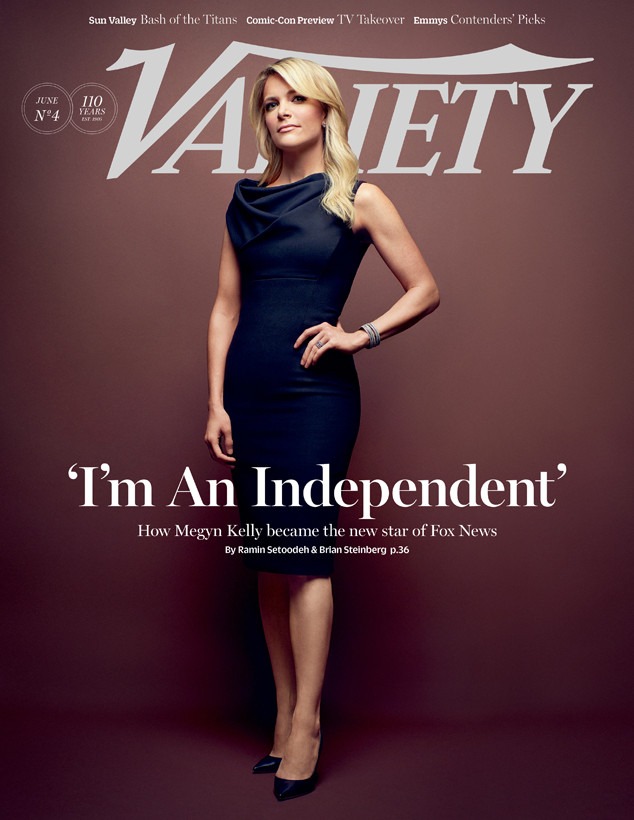 Variety
Like many journalists, Megyn Kelly has a wish list of people she'd love to have a sit-down with.
And as is the case with more and more journalists these days, Caitlyn Jenner is right at the top of that list.
So notes Variety in its new cover profile about the host of The Kelly File on Fox News, Kelly having indicated to the trade that she'd like to mix up her usual politically minded lineup with more pop culture figures, as she did when she snagged the first post-scandal TV interview with Jim Bob and Michelle Duggar.
In fact, Kelly already has a few questions for pop culture queen Kim Kardashian, should she ever have the E! star in the hot seat.
"I want to know if she's a force for good or evil," Kelly told Variety. "I had someone make the argument that she's voluptuous and maybe sending the message to young girls that you don't have to be a stick figure to be desirable. But I see the other argument too—it's all enhanced, and you send the message that you need to surgically alter yourself to the point of shocking to the point of shocking to be attractive to men."
Look at Kim, starting conversations in every arena. Is anyone not talking about her?
Fox News; Lisa Maree Williams/Getty Images
Meanwhile, Kelly says that she's "not a political person," a statement those who don't watch her and only know that she works for Fox News might find hard to believe. But she prides herself—and has earned respect beyond the confines of the network—for her ability to ask the tough questions of anyone, Republican, Democrat or Kardashian.
Speaking of which...
"I think Hillary Clinton could handle me—easily," Kelly said when asked just how tough she would be on the Democratic presidential candidate should she get a chance to interview her. "That would be epic television. Here she is, this powerful woman talking to somebody who is also a woman in a powerful post, who would never be accused of giving her a pass. Right? But I respect Hillary Clinton, and all that she's achieved."
She added, "I'd be under pressure, too. If you want to get big-name Democrats who are running for president, do you want to annihilate them? Of course not."
No need for an interview—don't miss the premiere of I Am Cait, July 26 at 9 p.m. on E!