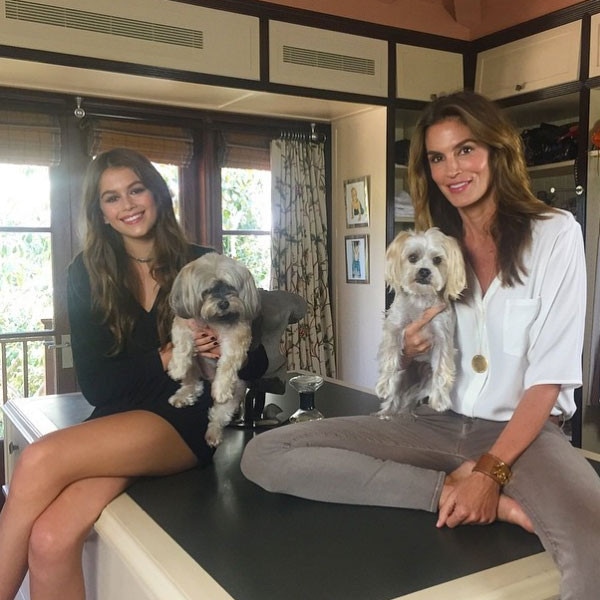 Instagram
Warning: looking at pictures of Kaia Gerber may be harmful to your self-esteem. 
Of course, we're only kidding (mostly), but considering the 13-year-old beauty is already the spitting image of supermodel mom Cindy Crawford, you can't blame us for being a tad jealous. 
The latest look-alike shot of the gorgeous mother-daughter duo comes courtesy of Crawford's Instagram account. The 49-year-old stunner posted the pic following a recent photo shoot, giving a shout-out to her mini-me, who is practically her twin and clearly, genetically blessed!
"Today's set? My closet! Hanging out with @kaiagerber (and Widget and Sugar!) for the @thethick_. Possible conversation, coming soon!" the mother of two captioned the shot. 
Anthony Kwan/Getty Images for Omega
Anyone else seeing a total mirror image here? Even their adorable dogs are identical...
This certainly isn't the first time Crawford's stunning daughter has made headlines. In fact, the gorgeous teen has already kicked her modeling career into gear, having previously graced the pages of Teen Vogue while admitting her famous mama will often give her industry advice. 
"She knows so much about it," Kaia said. "I think it would be hard for her to be on set and not say things like, 'Psst, Kaia, put your elbow up.'" 
Frazer Harrison/Getty Images
Likewise, Crawford, who is also a mom to son Presley, 15, has previously admitted her daughter is natural when it comes to the modeling business. "Modeling is just in her DNA or something, it's crazy," she told Into the Gloss in February 2014. "But I think she likes acting more than modeling…who knows? Things change."
Side note in case you can't stop staring at the stunning mother-daughter duo: as Crawford pointed out, the two are sitting in her closet, which looks to be about the size of our bedroom. 
#Jealous.