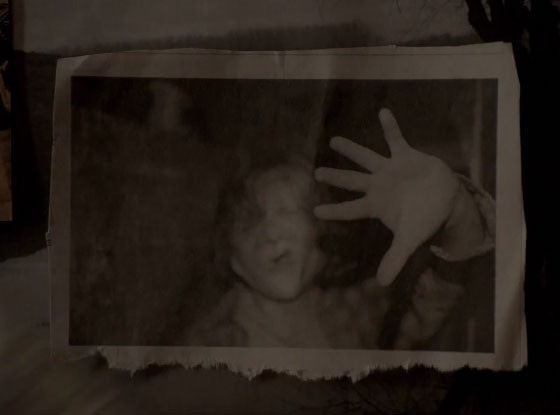 MTV
You think you know what Ghostface looks like? Then you have no idea what you're in for when MTV's Scream premieres.
The modern reboot of the classic slasher film franchise didn't only update the technology the teens use...the showrunners also decided to give the iconic murderer Ghostface a facelift, and the new mask is absolutely going to give you nightmares.
"The mask is so scary, man!," John Karna, who plays horror movie nerd Noah, tells E! News. "When that mask is on set, I get so terrified. It feels like the '90s mask but reimagined for a new generation. It has a whole new vibe and I love it. It's awesome."
And he's not the only cast member to feel that way!
"The mask is different and let me just tell you, it is so much scarier!" Carlson Young, who plays mean girl Brooke, tells E! News. "Our mask is no joke. There is a story behind it and it's terrifying. It's going to have a big payoff."
What sets this Ghostface mask apart from the original, iconic mask?
"The mask is not goofy. It's serious," Amadeus Serafini, who plays new kid in town Kieran, tells E! News. "And that makes it scarier. An actual killer would wear this mask."
Tom Maden, who plays jock Jake, agrees, adding, "The original mask has been so pervasive in pop culture. Kids have been wearing the mask on Halloween for years, so it's lost its punch. Changing up the mask keeps it fresh."
Bex Taylor-Klaus, who plays bullied teen Aubrey, promises that even fans of the original Ghostface can appreciate this new version of the iconic character.
"I hope our new mask is going to give people nightmares. And I don't mean that in a horrible way!" Taylor-Klaus tells E! News with a laugh. "It's just absolutely terrifying. Sick and sadistic. And I want anyone who is expecting the iconic Ghostface mask to take a step back, give us a chance and let us give you our new Ghostface. Ours is scarier, because it has this element of a ghost from the past haunting the kids in the present. Give us a chance because if you let us, we're going to scare the pants off you."
So why the big change? Executive producer Jill Blotevogel explains to E! News that they absolutely needed to update the mask because of how prevalent the original mask has become.
"From the start, I always worried that because of its popularity and because it's become so iconic, and the fact that in Scary Movie it had been turned into the drunk mask, a joke, I worried that we didn't have the freshness we needed it to have for the show," she tells E! News. "Like how Battlestar Galactica redefined what a cylon was like when they did a new version, we needed to do that."
And the change isn't just superficial. There's a reason behind why the new mask looks the way it does.
"Now we have a character who has a deeper mythology we can tap into, and it's not just a costume someone grabbed off a rack and threw on to be anonymous," Blotevogel says. "This mask represents something and inspires terror in the town for a very real reason. This killer actually went on a rampage in the town 20 years earlier, and everyone remembers that. The mask brings up old feelings and fears."
Scream premieres Tuesday, June 30 at 10 p.m. on MTV.