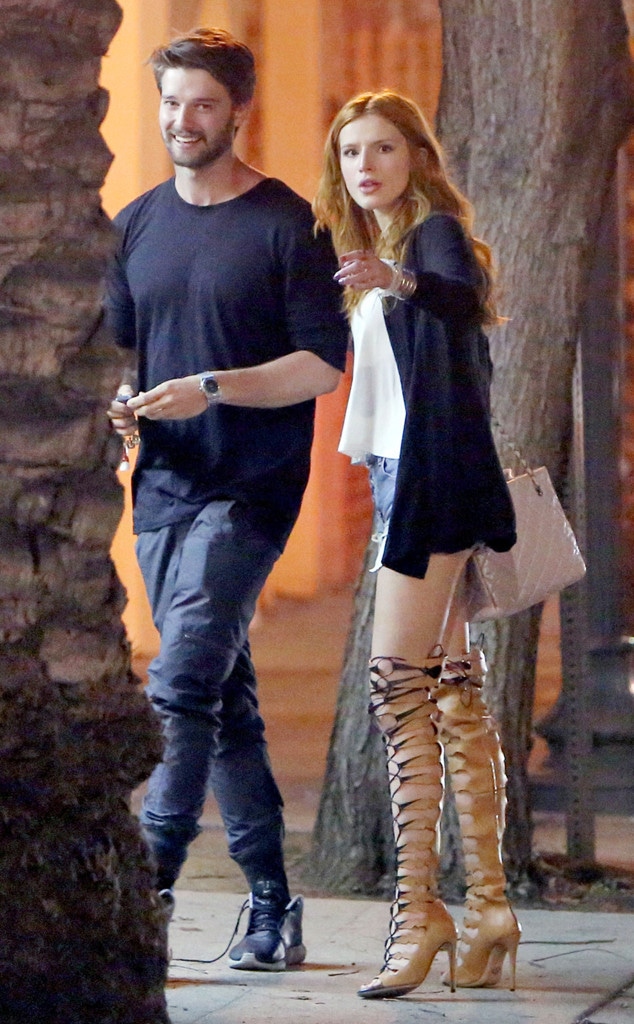 PacificCoastNews
Get the tissues ready!
Patrick Schwarzenegger, Bella Thorne and director Scott Speer shared a meal at L.A.'s Mud Hen Tavern in April—and as it turns out, it was a business dinner. Deadline reported Monday that Schwarzenegger and Thorne will star in Midnight Sun, based on a 2006 Japanese film about Katie, a 17-year-old who suffers from a disease that makes her skin so sensitive to sunlight that even the tiniest exposure could be fatal. Everything changes when she falls in love with a boy named Charlie.
Eric Kirsten is writing the script for the young adult movie.
Shooting is scheduled to start in September.
Thorne confirmed the news herself via Instagram, telling fans, "Proud to announce this YA romance film with my good friend Patrick and directed by Scott Speers!"
Schwarzenegger is making his famous family proud. His mom, Maria Shriver, reacted to the 21-year-old actor's casting via Twitter Monday, writing, "Congrats to @PSchwarzenegger! So exciting. Hard work pays off."
After his dinner with Speer and Thorne in April, Schwarzenegger tweeted that he had "cooooool stuff coming." His leading lady, meanwhile, posted a picture with him on Instagram. "Disclaimer *** we are just friends," Thorne wrote.
Schwarzenegger, a University of Southern California student, made his feature film debut in 2006's The Benchwarmers. He also appeared in 2012's Stuck in Love, 2013's Grown Ups 2 and 2015's Dear Eleanor.
Thorne is perhaps best known for playing CeCe Jones in Disney Channel's Shake It Up from 2010 to 2013. Since then, she has appeared on the big screen in 2014's Alexander and the Terrible, Horrible, No Good, Very Bad Day and 2015's The DUFF. She next stars in Lifetime's Perfect High, debuting Saturday at 8 p.m.
Speer made his directorial debut in 2012 with Step Up Revolution. That same year, the filmmaker published a young adult novel titled Immortal City.