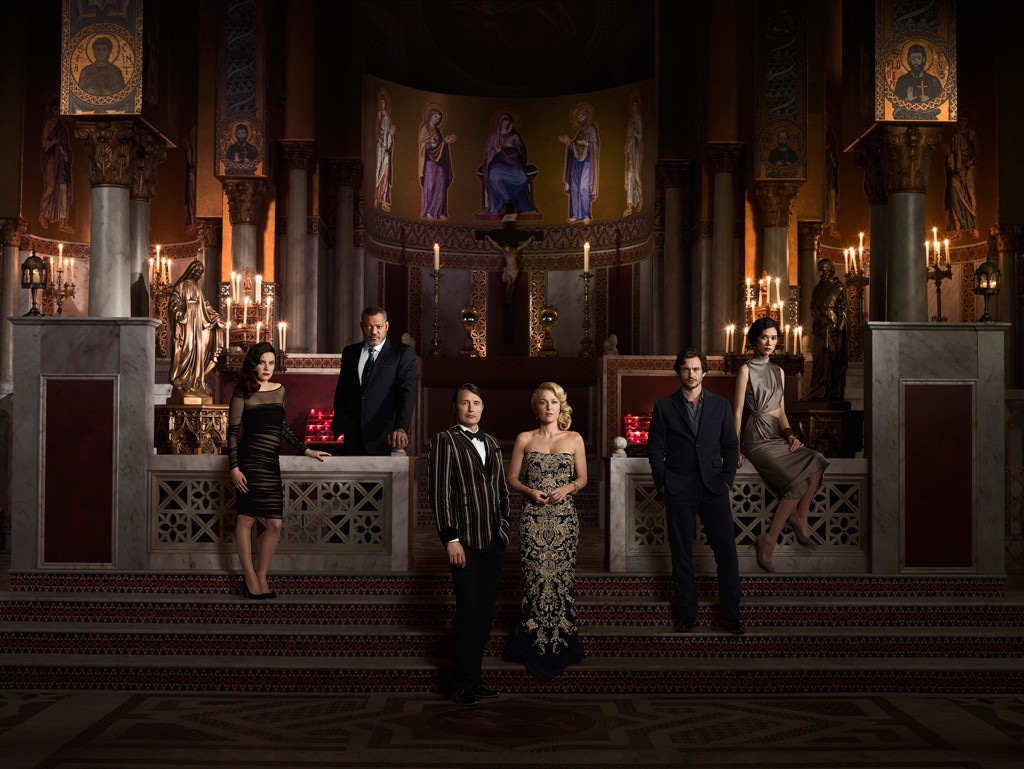 NBC
The dinner party is over. NBC has canceled the fan-favorite Hannibal, E! News has confirmed.
"NBC has allowed us to craft a television series that no other broadcast network would have dared, and kept us on the air for three seasons despite Cancellation Bear Chow ratings and images that would have shredded the eyeballs of lesser Standards & Practices enforcers," Bryan Fuller, series creator, said in a statement released by NBC. "Jen Salke and her team have been fantastic partners and creatively supportive beyond measure. Hannibal is finishing his last course at NBC's table this summer, but a hungry cannibal can always dine again. And personally, I look forward to my next meal with NBC."
Hmmm...its last course on NBC you say? That certainly makes it seem like Hannibal may live on to eat another day. E! News has learned that Hannibal is currently being shopped around at other networks, and there is also talk of a movie.
And these tweets from De Laurentiis Company, who produces Hannibal, are making us hope that we could see Hannibal season four...on a different network.
"Gang, #Hannibal cancellation rumor is true. Important things to keep in mind: First, the remaining 10 episodes of S3 will air & are amazing!" the company's tweets read. "Second, we are exploring other options for future seasons. Third, we are incredibly grateful for the amazing support and partnership with NBC. We made three rewarding seasons together. We hope to bring you future seasons. Let's focus on the amazing #Fannibal family we have formed, and move forward together! #Hannibal"
The third season will continue to air all of its episodes on Thursdays at 10 p.m. on NBC.
"We have been tremendously proud of Hannibal over its three seasons. Bryan and his team of writers and producers, as well as our incredible actors, have brought a visual palette of storytelling that has been second to none in all of television—broadcast or cable," NBC said in a statement. "We thank Gaumont and everyone involved in the show for their tireless efforts that have made Hannibal an incredible experience for audiences around the world."
Hugh Dancy and Mads Mikkelsen starred in the drama for three seasons. Dancy played Will Graham to Mikkelsen's Hannibal Lecter. The cast also includes Caroline Dhavernas, Gillian Anderson and Laurence Fishburne.
Fans are still hungry for more Hannibal. Will the show have a fourth course somewhere else? Stay tuned...
(E! and NBC are both part of the NBCUniversal family.)