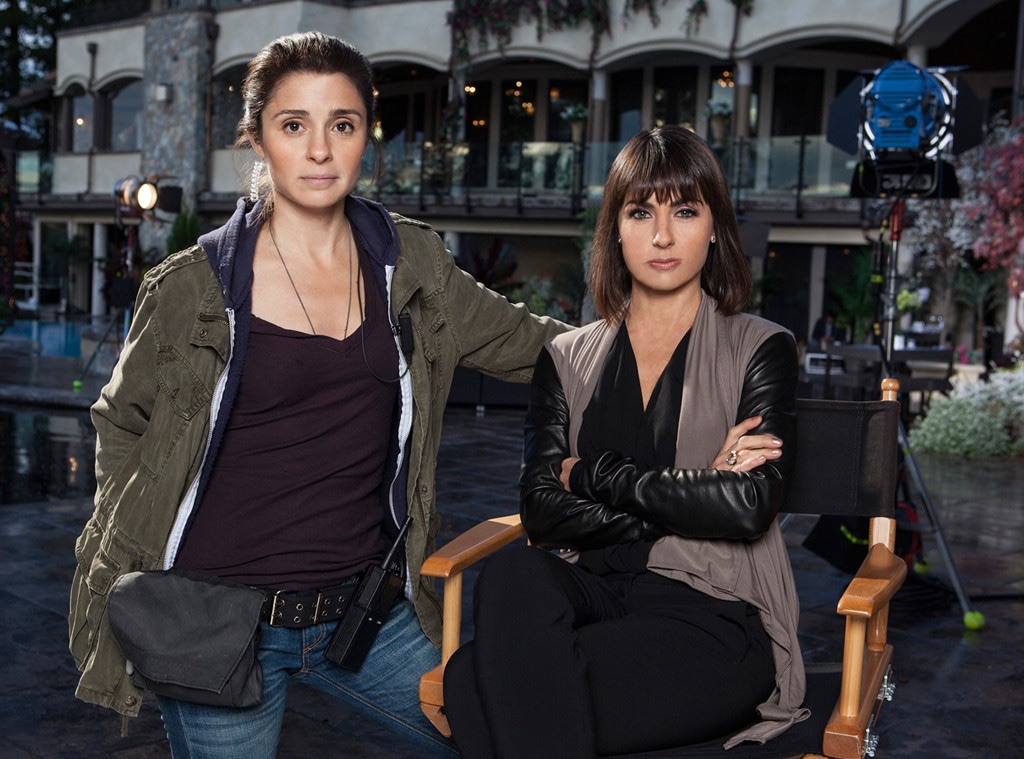 Lifetime
Two of this summer's hottest TV shows are all about fairytale romance. One, The Bachelorette, is wholeheartedly selling it. The other, UnREAL, is lampooning it. But the two series have another surprising connection.
UnREAL's creator Sarah Gertrude Shapiro worked on The Bachelor and The Bachelorette for nine seasons before going on to create the Lifetime drama, which has quickly become our new summer TV obsession. It's like peeking behind the scenes at the inner-workings of a reality dating series, but also getting a reality dating series, thanks to the show-within-a-show, Everlasting. Basically, it's the best of both worlds and we can't get enough.
Because of her long history with the ABC reality franchise, we were curious to know if Shapiro had heard from any of its former stars since UnREAL debuted, and guess what? She has!
"I have a little bit. People have reached out and just been like, 'Oh my gosh, it's so great!'" Shapiro says. "I heard from Jen Schefft…and she was like, 'It's so great!'" We've been seeing online people saying it feels real to their experience, which is good to hear. Mostly we've just heard people are really enjoying it."
But despite some former contestants seeing similarities, Shapiro insists UnREAL is not based on her experiences working on The Bachelor, telling E! News, "It's a drama and it's a scripted drama and it's a serious premium cable show, is how we think about it," adding that making it "an expose or a tell-all" would've cheapened UnREAL.
"It's truly a drama," she stresses. "We truly wrote it, we made up all the people, we made up all the stories."
And the drama centers on producer Rachel (a wonderful Shiri Appleby), a feminist who seems to hate herself for what she does in order to succeed at work, but also knows she's ridiculously good at it. So did Shapiro feel the same way while working in reality television?
"That's the interesting thing about it. The inspiration for unREAL came from a lot of different parts in my life that all had similar themes. I had worked in fashion, advertising and reality TV, all while being a writer," she explains. "I had those moments in each one of them where I was sort of like, wow, I suddenly find myself in a position of doing something I really don't like and I don't feel good about. But what do you do with that information when you still are a grown-up and have to pay my rent? We always joke about the end of The Devil Wears Prada, where she's like, 'Eff you, job!' and throws her phone into a fountain and then she becomes a famous journalist, and you're like, 'What?!' In real-life, what would happen is she'd be like, 'Eff you, job!' Throw her phone in the fountain, freak out, get it out of the fountain, put it in a bag of rice and text her boss like, 'I'm so sorry! Can I please get my job back?' That's the thing, who gets to act like that?" 
Preach, Shapiro. Preach.
And while it's "hard" for Shapiro to watch The Bachelor and other reality TV offerings, she totally understands why there's such a fascination and hunger amongst viewers for these kind of shows. 
"I think shows like that just tap into own most basic human nature in such a brilliant and totally populist way. I think they're crack, they're totally crack," she says. "I think the princess fantasy is super magnetic for all of us and I totally understand why. 
"I actually think there's an appeal for women who are working 90 hours a week, busting their balls at a career, just seeing that just by being pretty you can be whisked away in a helicopter and be saved and never have to work again," she continues. "That idea, that it could be that simple and you could be saved and there's one person who could solve it all and that guy is coming and he's going to be on a white horse and he's going to be amazing, I find it alluring and I'm not that person at all. It doesn't surprise me that people are fascinated with it. I think it's the most basic part of our nature. And I don't mean that in a bad way."
UnREAL airs Mondays at 10 p.m. on Lifetime, and you can watch the first four episodes now on mylifetime.com.