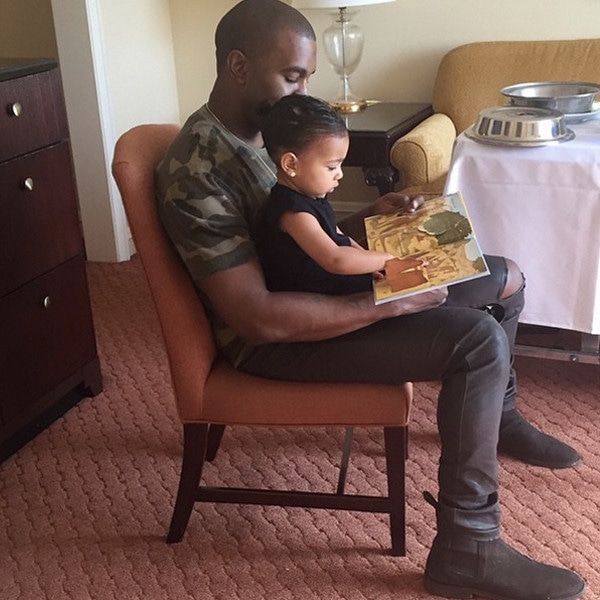 Instagram
Happy Father's Day indeed! 
Just before the clock struck midnight on the east coast Monday morning, Kim Kardashian revealed some exciting news about her upcoming baby. Get ready dolls because we now know the gender!
"Precious moments like this when we were traveling on tour with you are what I live for," Kim wrote on Instagram with Kanye West reading to North West. "You're such a good daddy to North & you will be the best daddy to our new son too!"
Yes, you read that right! Nori is going to have a baby brother this December!
The announcement comes just a couple of weeks after the Keeping Up With the Kardashians star told her Twitter followers that she was keeping some big news a secret.
"So many rumors," she shared on social media. "We are not having twins, yes I am carrying my own baby lol & we have not told anyone the sexy of our baby yet!"
She added, "Nothing is confirmed unless you hear it from me!" 
Another rumor she recently had to squash was all the reports that baby No. 2 could actually be called South West. No, ladies and gentlemen. Kimye is thinking way beyond that.
"I don't like South West though because that's like, you know, North will always be better and be more….she has a better direction," Kim recently confessed to NPR. "So I wouldn't do that. I don't think we'll go with another direction."
Despite all the crazy rumors, the famous pair remains extremely thrilled about their upcoming arrival and growing family. 
"We are so beyond excited, the 34-year-old Selfish author told Glamour magazine. "I'm a completely different person…If it all went away, and I was just a mom, I would love my life."
New episodes of Keeping Up With the Kardashians return later this year only on E!