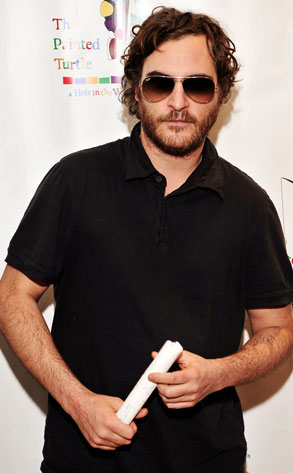 Steve Jennings/Getty Images
"Like brother, like brother," remarked a close Phoenix-family friend, regarding Joaquin's unexpected statement that he's done with Hollywood. The Phoenix clan have never done things normally, trust me on this one. I was once on the phone, checking an item, with both River and his mom, Arlyn, about River smoking a ton of pot on a movie set. The dance around whether or not he'd partaken was truly a deft nondenial/nonconfirmation one, worthy of Angelina Jolie's best media-finagling talents.
Then, of course, Joaquin's been notorious for his nonanswers backstage with me and others, all the while sweating profusely, strange stuff always.
Point is, whether or not Joaquin really means to give up Hollywood is not at all the topic everyone should be discussing right now. Nope. Instead, makes far more sense to make sure J.P.'s just gonna have a less combustible, cryptic life, unlike his tragic bro. If that happens—regardless if music is his chosen profession or not—he'll be back in Hollywood, no prob. It may take decades à la Debra Winger, but it'll happen.