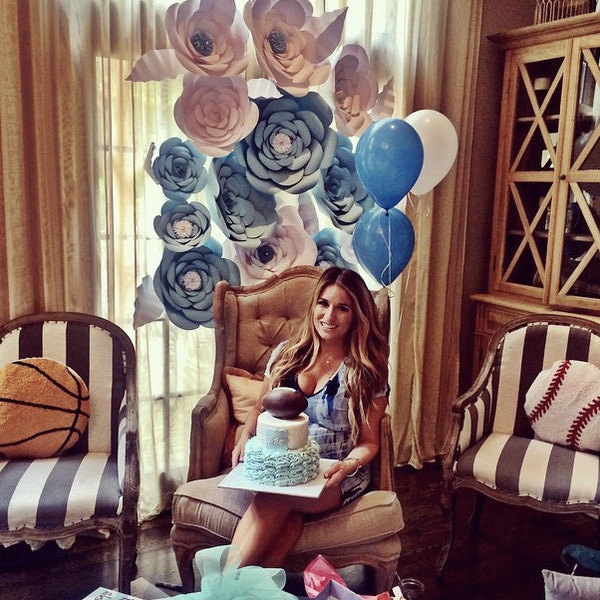 Instagram
Let the countdown to baby No. 2 officially begin!
It feels like yesterday (okay or maybe early March) when Jessie James Decker announced she was expecting her second child with husband Eric Decker.
But over the weekend, the country singer was treated to a heartfelt baby shower from her beloved sister Sydney.
"I am SO blessed and lucky and just taken back to have this girl right here as my sister! She planned this entire shower, from invites, to gift bags, to decorations, to the games to running everything!!!" Jessie wrote on Instagram Saturday with an assortment of photos. "I can't thank you enough @sydneyraeface for what you do for me."
Featuring treats and desserts from Royal Flair Events, the shower also featured gift bags featuring a variety of products including Living Royal socks, Faithful Scents candles and skincare favorites hand-picked by Sydney.
"My beautiful shower for baby boy," Jessie wrote while posing in front of her massive cake that featured a football on top. Sydney added, "Such a wonderful day! Celebrating baby Decker and my beautiful sister @jessiejamesdecker."
While the host of CMT's Redneck Island prepares for another smooth birth, some fans are wondering if a name has already been picked out. 
As it turns out, both Eric and Jessie have it all handled and they're not ready to reveal anything just yet. "I'm not telling anybody," she recently confessed to Alicia Quarles.
What she can confess is the simple fact that baby No. 2 may not be the end for this talented family. Her NFL stud has admitted to wanting a large family and he's not willing to waste any time.
"It used to be four [kids] but who knows with this one," Jessie recently shared with E! News. "He might be trying for a fifth and he'll be sneaking in again."
Congratulations you two and we can't wait to meet your handsome boy!