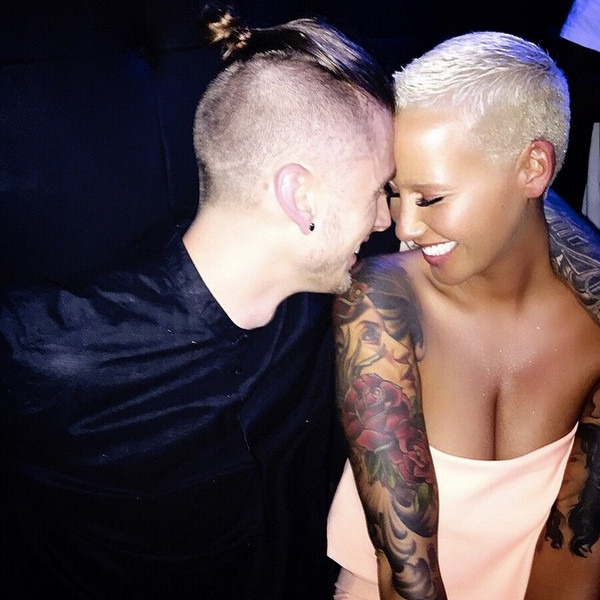 Instagram
Amber Rose appears to be smitten with her new beau, rapper Machine Gun Kelly.
The 31-year-old glamour model and mother of one shared on Instagram on Saturday a sweet pic of the two looking absolutely in love. He has his arm over her shoulder as the two smile at each other with their foreheads touching.
"DILF ❤️ MILF #Baecation," she wrote.
Her beau has a daughter, Casie, from a previous relationship. A week ago, he shared on his Instagram page a pic of the two, with his arm over her, with friends at what appears to be the same event. Rose sported a cream strapless dress with a draped top.
Rose recently dished about her love life in an interview with Larry King , 81, on an Ora.tv's Larry King Now. There, she also talked about her ex, rapper Wiz Khalifa, and their son, Sebastian "The Bash" Taylor Thomaz, 2.
Rose and Khalifa wed in 2013. She filed for divorce in September 2014, a month after their 1-year wedding anniversary.
"I think that we just wanted different things in our lives," Rose told King. "Being married in the public is not easy. Having access to pretty much any and everything we want is not easy. We still love each other."
"Right now we're just working on co-parenting and learning how to be friends," she added. "He's at my house a lot for the baby. I'm at his house."
She told King that she is currently dating Machine Gun Kelly, while Wiz Khalifa is dating someone else as well. The rapper has not commented.
"Does that bother you?" King asked.
"No," she said. "Not anymore."
Rose and Machine Gun Kelly, who's 25 and was born Colson Baker, began dating in April.
"We're enjoying each other's company, for sure," she told King.
Rose had told L.A.-based hip-hop and R&B radio station Real 92.3 earlier this month that she and her new beau are "just getting to know each other" and that he is a "really nice guy" who  treats her "really, really nice."
Machine Gun Kelly had talked about Rose in an interview with hip-hop radio station HOT 97 in May, saying, "Everything was completely natural. It wasn't anything I had expected or had planned or anything like that."
Rose also talked to King about being famous. The model is known for her racy pics on Instagram, where she has more than 6.8 million followers.
"I did not choose fame," she said. "I dated someone that was very famous and I developed a fanbase on my look alone, 'cause I didn't talk for a lot of years. And then once I realized that I had that fanbase, it was already too late for me, so I decided to...use it."