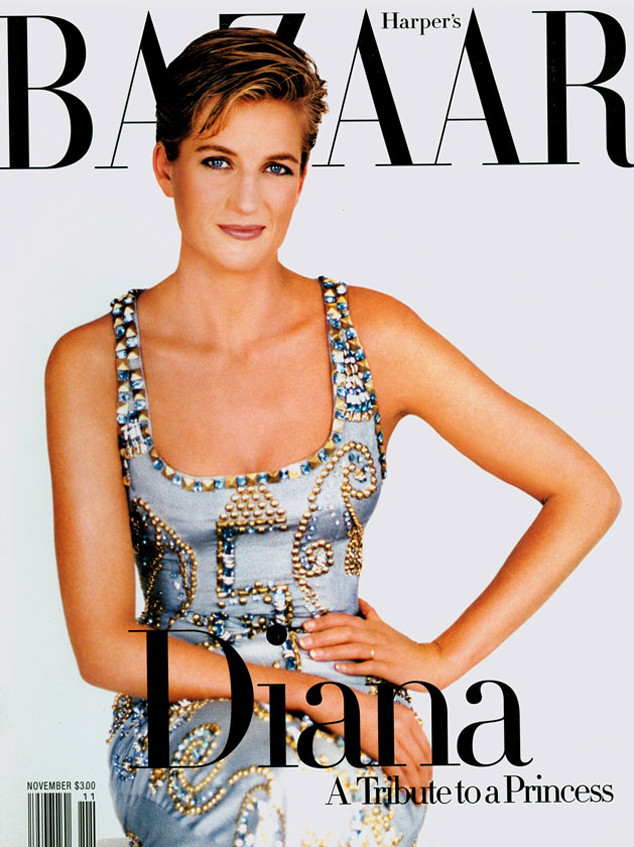 Harper's Bazaar
UPDATE: Going once...going twice...sold!—to the buyer with $200,000 to spare.
That's right, Princess Di's slim-fitting Versace confection went to auction, and sold for more than six times the bidding start price of $30,000. While the final bid was anticipated to be in the $60,000 to $80,000 range, the final selling price was, well, much more. The pale slate-blue piece is reportedly one of the first dresses Gianni Versace designed for Diana.
News of the sale comes on what would have been her 54th birthday today (we're sure, for the buyer, it was worth every penny).
__________________________
A Princess Diana classic is going up for auction and the hefty price tag, well, shouldn't really surprise you.
Diana wore the silk beaded Versace confection for a photo shoot with famed photographer Patrick Demarchelier in 1991, although the dress only first appeared in print six years later in November 1997, when Harper's Bazaar ran the photo for a cover feature commemorating her life. (Diana had died in a car accident in Paris just three months before.)
The dress, which spent a cool 18 years in the Versace archives, is being unearthed for the Julien's Auctions' Hollywood Legends sale, with a starting bid of $30,000 (the dress is, however, expected to rake in a good deal more than that).
Seriously, the column gown is a stunner—and Princess Di's style was timeless—we wouldn't blink an eye if the final bid ended up north of $60,000. We're out of the running (obviously), but whoever nabs this piece will be lucky to have it.
(Originally published June 19, 2015, at 3:01 p.m. PT)