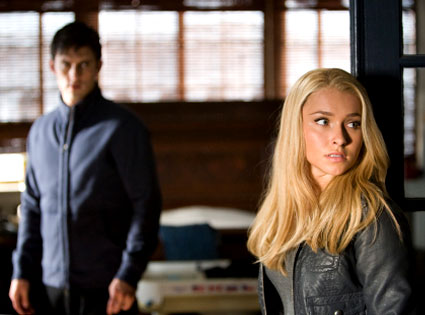 Adam Taylor/NBC
Update: I've just been told by reliable insiders at NBC that Heroes most likely will replace Jeph Loeb and Jesse Alexander with at least one new writer-producer, and one of the names being tossed around is Bryan Fuller, the creative genius who served as a consulting producer for the first half of the first season.
The upside? This would be nothing short of awesome, as Fuller's Heroes episodes were some of the strongest ever. If anyone can save this show, he can.
The downside? One would assume this could only happen if Fuller's current obligation, Pushing Daisies (which he created), does not get picked up, which would be a heart-breaking TV tragedy. Though perhaps he could do both Heroes and Daisies and double the awesomeness in our living rooms? A girl can dream...
Original Story: Offing fan favorites is hardly something new on NBC's Heroes—except now they are doing it off camera, to two of the show's top producers.
I've just exchanged emails with coexecutive producer Jeph Loeb, who confirms to me: "As of today, Jesse Alexander and I have left Heroes."
Alexander and Loeb were largely in charge of Heroes' day-to-day production and have considerable fan followings, especially among fanboys.
The firings come as a "big shock" and "surprise" to the cast and crew, according to inside sources who work on the show.
So why is this happening and what does it mean for the future of Heroes?
"Someone had to take the fall." This is what a reliable inside source on Heroes tells me of the firings of Loeb and Alexander. "NBC is not happy with the current status of the show, and there had to be a visual and tangible change in the course of action."
Heroes' ratings are down this season (about 9 million viewers compared to more than 11 million last year), along with what appears to be growing backlash from many fans and press members alike.
The final blow came from last week's Entertainment Weekly cover, which I'm told was reported on under the ruse of a promotional story for the series. The surprise—a cover story pointing out Heroes' third-season flaws and fan discontent—did not go over well with higher-ups.
According to sources, executive producer Tim Kring has not decided yet if he will replace Loeb and Alexander. Loeb is the author of many comic books, including Batman and Superman for All Seasons (the genesis for Smallville). Alexander came from Lost and Alias.
Loeb tells me of today's news: "I'm incredibly proud to have been there from day one. I'm thrilled to be a big part of the success of the show with eight Emmy nods and a win this year for NBC.com. I will miss the superb cast and writing staff and wish everyone the best."
Loeb had completed writing and producing the fall finale. It is the last episode of
the Villains chapter, called "War."
According to Variety, Loeb and Alexander were excused from the show because of creative differences with NBC and overwhelming pressure from the network to cut the show's budget, as it was already over $4 million per episode.
Insiders tell me that so far, there is no sign of the big-budget scenes slowing down. Greg Grunberg told me on Saturday they were just shooting a "massive" scene.
"We're shooting this weekend," he revealed. "It's been insane for us. We're shooting this huge, huge episode right now. Tons of action—I was being chased by a helicopter two nights ago at three in the morning."
Despite the shakedown, spirits were high at Saturday night's Hollywood Legacy Awards in Hollywood, which honored the Heroes cast and producers.
At the event, Kring laid out his plans for the future of the show:
"[The] Villains [chapter] goes until mid-December, and then we start the next volume, which is a brand new story from scratch called Fugitives. So you can start from scratch, or you can go right into Villains from that one."
Albert L Ortega/WireImage.com
He's also planning some more housecleaning. "There are a couple more deaths planned," Kring said. "Someone you have come to know will not make it to the end of the season."
Hear that? More offings.
So...Can all this change help? Will you keep watching? What do you think of the firings? Share your thoughts below.
(Originally published on Nov. 3, 2008 at 10:39 a.m. PDT)