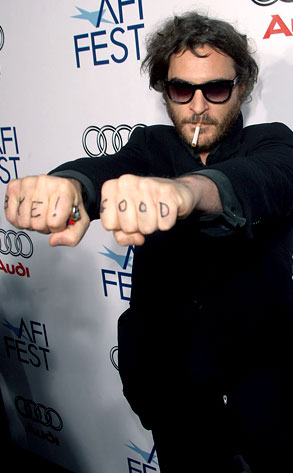 Jason Merritt/Getty Images
Last week Joaquin Phoenix gave us one of the most awkward red carpet moments ever when he slurred a retirement announcement and then stormed off when Extra's correspondent laughed uncomfortably in disbelief.
Apparently that wasn't all Joaquin had in mind for his farewell tour. At last night's AFI screening of Che, the soon-to-be-ex-actor-turned-musician decided to let his fists do the talking, only backwards.
To be fair, if he turns them around, they really do say "Good Bye!" from his vantage point, and this is his "bye! good," so who are we to tell him how to do it?
Ultimately we're still hoping he's not really serious about "out! peacing" of Hollywood—he's a good actor, an interesting personality and strangely attractive—but more than anything, we just hope he's OK (and we're not the only ones).