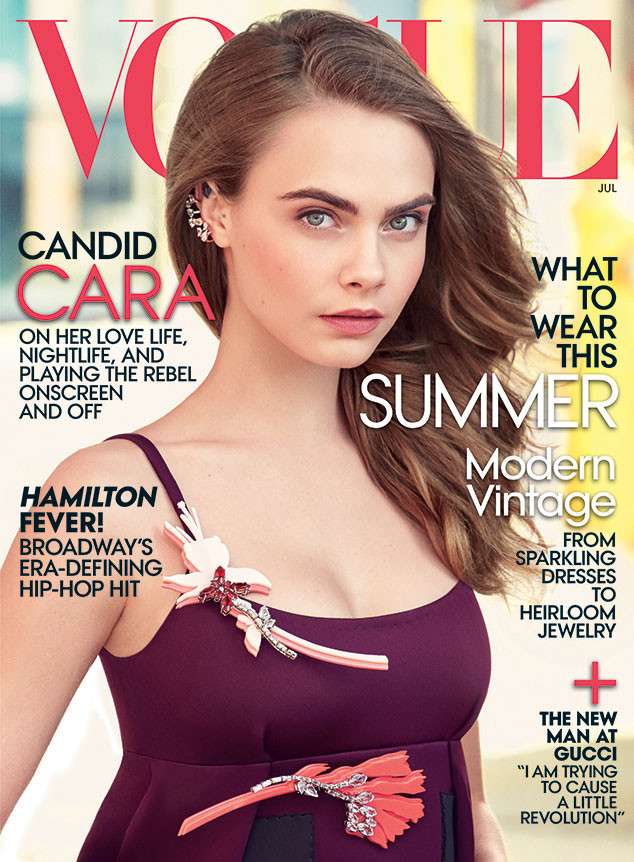 VOGUE/Patrick Demarchelier
Cara Delevingne is ready to talk about her romantic life.
Although she has never publicly defined her sexual orientation, the model-turned-actress reveals to Vogue that she is in love with Annie Clark, better known by her stage name, St. Vincent.
"I think that being in love with my girlfriend is a big part of why I'm feeling so happy with who I am these days," she says. "And for those words to come out of my mouth is actually a miracle."
She tells the magazine that she realized she was confused about her sexuality beginning at a young age, which added to the anxiety and depression she suffered from growing up. "It took me a long time to accept the idea, until I first fell in love with a girl at 20 and recognized that I had to accept it," she explains.
VOGUE/Patrick Demarchelier
Delevingne doesn't want to label herself, explaining that she also gets turned on by men. "I have erotic dreams only about men," she admits. "I had one two nights ago where I went up to a guy in the back of a VW minivan, with a bunch of his friends around him, and pretty much jumped him."
No matter whom she loves, the Paper Towns star admits that she's terrified of relationships because they force her to show who she really is.
"Women are what completely inspire me, and they have also been my downfall. I have only been hurt by women, my mother first of all," she says candidly.
VOGUE/Patrick Demarchelier
Her mother, Pandora Delevingne, has openly struggled with addiction and is writing a book about it.
"The thing is," the actress says, "if I ever found a guy I could fall in love with, I'd want to marry him and have his children. And that scares me to death because I think I'm a whole bunch of crazy, and I always worry that a guy will walk away once he really, truly knows me."
While talking about her Paper Towns character, Margo, and how she learned to become her, Delevigne reveals she has also be in a relationship with a man.
"I'm no Method actor. I've tried staying in character, and it's just exhausting," she says. "But after playing Margo, I broke up with my boyfriend in a totally Margo way. I wrote him a letter and left."
"That wasn't me, it was Margo."