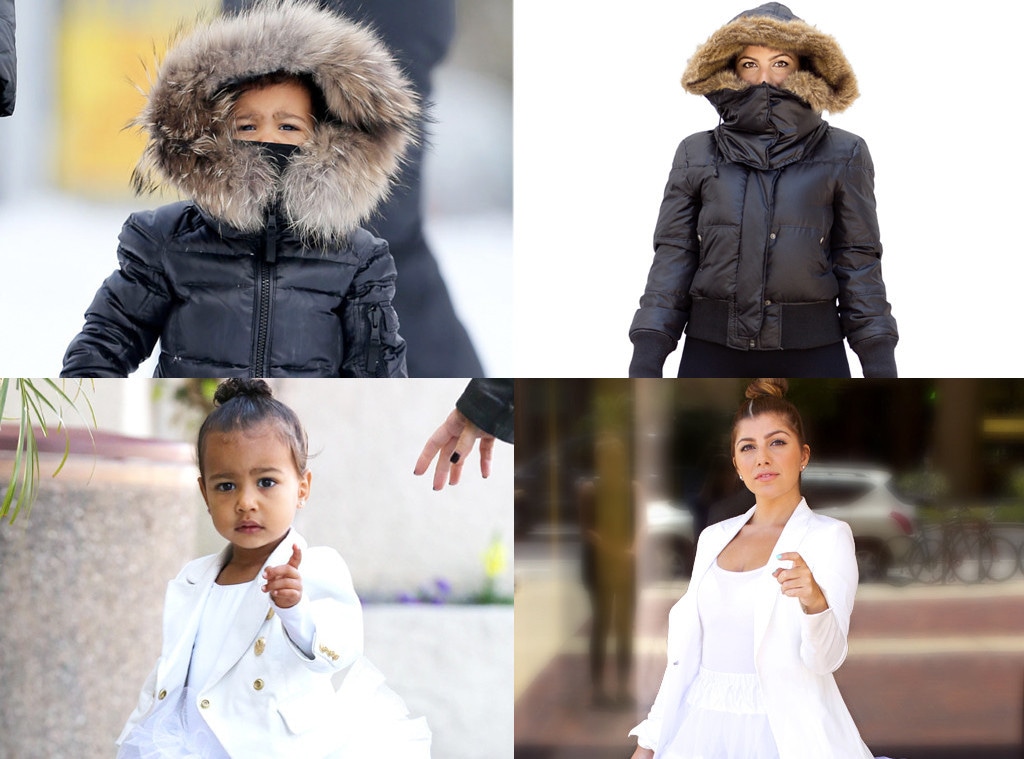 Splash News/X17/Instagram/Melissa Hebeler/Lindsay Scheinberg/E!
Sure, dressing like North West all week will be fun and exciting and full of rainbows and happiness. Those were my initial thoughts going into this little experiment, however, it didn't take long before I realized that I got myself into something far beyond what I expected.
The idea all began after writing about the Elle editor who dressed like Kim Kardashian for a week. It was a brilliant idea, so my colleague and I felt inspired. Who would be a great muse, we wondered? Nori is young, fun and adorable. Plus, tutus are involved. Why not?!
So we got together and brainstormed five iconic outfits the 2-year-old has rocked. We had plenty of options, because it's North West and she's way cooler than all of us, but we also had to keep in mind that we needed pieces we could actually obtain.
After we came up with our looks, it was time to try and re-create this fashionista's already-impressive wardrobe.
Splash News/Melissa Hebeler/E!
MONDAY
Outfit: Faux Fur-lined black parka, black leggings, boots
Comfort Level: 4 out of 10
What Happened: Granted, North wore this while in the snow, so you can imagine my discomfort wearing this in 80-degree heat in Southern California. It was a sweaty day, to say the least. But other than dealing with my constant perspiration (which seriously made me feel a little looney at times), I had to endure a good amount of judgment. I got so much side-eye and WTF-is-wrong-with-her glances from strangers. People even started asking me, "You know it's June, right? Why are you wearing that?"
BECAUSE JOURNALISM, THAT'S WHY.

Instagram/Melissa Hebeler/E!
TUESDAY
Outfit: Ripped boyfriend jeans, blush blouse, white tennis shoes, Frozen suitcase

Comfort Level: 9 out of 10 (not counting my attempt to roll on the suitcase)
What Happened: The outfit itself was super comfortable and actually something I would wear again. In fact, I got a lot of compliments. But because I pride myself on being a dedicated journalist, I wanted to experience this outfit in it's entirety—which meant trying to hang on that damn suitcase.
I kept forgetting how much bigger I am than Kim and Kanye West's daughter, but this was a clear reminder. Just trying to hang on the bag was hard enough, but when my colleague tried to actually roll me on it...sigh.
RAAK/AKM-GSI/Melissa Hebeler/E!
It was a sad sight (which you can get a taste of above). I got rug burn on my knees and some bruises on my arms. It's all good. War wounds, ya know?
After a handful of unsuccessful attempts, I decided to just let it go and go back to adulting (which was not nearly as fun, but easier on my arms and legs).
Instagram/Melissa Hebeler/E!
Instagram/Melissa Hebeler/E!
WEDNESDAY
Outfit: Black bomber jacket with sticker letters, black pants, black T-shirt

Comfort Level: 10 out of 10

What Happened: This is practically what I would wear on a normal basis, so it wasn't much of a difference. The best part, though, is we couldn't get our hands on an official Yeezus Tour jacket, so I had to get crafty with it. I took the H&M black bomber jacket and drove to the closest Joanne's to buy some sticker letters. They only had one option for large, white letters, so I grabbed that and stuck them on. Nobody even noticed that it wasn't authentic.
Until I was walking around with a jacket that said "Yeezu Tour."
Yeah, the letters started falling off.
But that wasn't a big deal (shout-out to extra letters stored away in case!). What was even harder was mastering North's facials. This girl makes it look so freakin' easy. Spoiler alert: It's not.

RAAK/AKM-GSI/Melissa Hebeler/E!
THURSDAY
Outfit: Black fur shawl, black leggings, black T-shirt, Charlotte Olympia cat flats

Comfort Level: 8 out of 10

What Happened: I was a little nervous about going out in this one. It's super cute, don't get me wrong, but it was a little bougie for me. I felt like I was vying for a role in a Black Swan sequel or something. But, I did it, and apparently, people liked it. And nobody (including myself) even realized that my leggings were inside-out all day. So there's that.
Colleagues who didn't know what I was doing thought I looked "glamorous" and "fabulous." The flats were amazing, but I didn't walk around in them all day because they're pricey and I got nervous, so I brought my Forever 21 flats as backup.
Again, I struggled with the facials. I kept telling myself, "It's OK, Bruna, you got this. Just look sweet and innocent and adorable and slightly curious all at the same time."
Yeeeeeah, that didn't exactly happen. I ended up looking like someone told me the bathroom's out of order when I've been holding it for hours. Not cute.

X17/Instagram/Lindsay Scheinberg/E!
FRIDAY
Outfit: White tutu, Yummie Bodysuit, white boy shorts, nude solid leggings, white tennis shoes, white blazer
Comfort Level: 7 out of 10

What Happened: Save the best for last, right?! This is my favorite of North's looks, so I was excited to bring it to life. It was not easy, though. Again, I was reminded that I'm not a 2-year-old toddler when I began the search for a white tutu that didn't entirely put my ass on display.
Even when I came across one that worked, I was still worried about being too racy in the workplace, so I added some tights and boy shorts for additional coverage, which then created an obstacle course every time I had to use the restroom.
It was a fun outfit, though. I thought I'd be a little more apprehensive and nervous, walking around looking like this wannabe ballerina in a business building full of people, but I honestly didn't care. I felt like a kid again. I showed off my ballet skills (or lack thereof) by dancing around the office and instead of replying, "It's for a story," when people kept asking why I'm wearing this outfit, I just said, "Because it's Friday!"
People seemed to love it. They were obviously confused, but they loved it. Especially the construction workers who yelled "Hey! That's niiiiiice." (Awkward smile and quick sashay away.)
And since I was already in uniform, I recruited another colleague to be my Penelope Disick so we could re-create one of my favorite images.
It was an interesting experience taking on the life of a toddler who has already proven to be much higher on the Cool-o-Meter than me, and if anything, this experiment only further confirmed that. North's fashion is great, trendy and obviously super chic, and some days, we had the exact same style.
But most days, I felt pressure to live up to her status and cuteness, and it was just too stressful (and freakin' hot, seriously, I think I sweat more water weight this week than ever before).
With that said, I wave my white tutu, because the truth of the matter is this—no one can be like Nori. No one.
—Styling by Kathryn Eisman and Holly Passalaqua