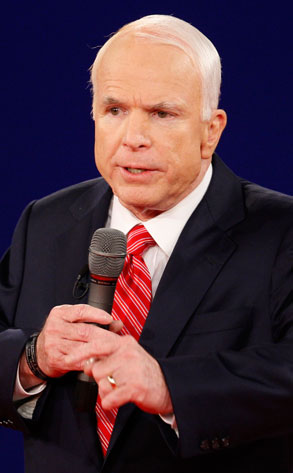 AP Photo/Ron Edmonds
On Saturday Night Live, as at campaign rallies, John McCain gets outdrawn by Sarah Palin.
Last night's show, featuring a QVC-pitching McCain, pulled a 9.0 in the overnight ratings, per Nielsen stats, about 15 percent off last month's Palin-powered SNL.
Overall, the McCain show was another winner for SNL, which saw the combination of the presidential candidate, wife Cindy McCain, faux running mate Tina Fey (as, natch, Palin) and host Ben Affleck (as Keith Olbermann, among others) boost ratings 27 percent over last week's show.
Total viewer figures were not available, although, using last week's numbers as a guide, a guess could be made that as many as 12 million tuned in. (About 14 million watched the Palin SNL.)
For the season, SNL is up nearly 70 percent over last season.