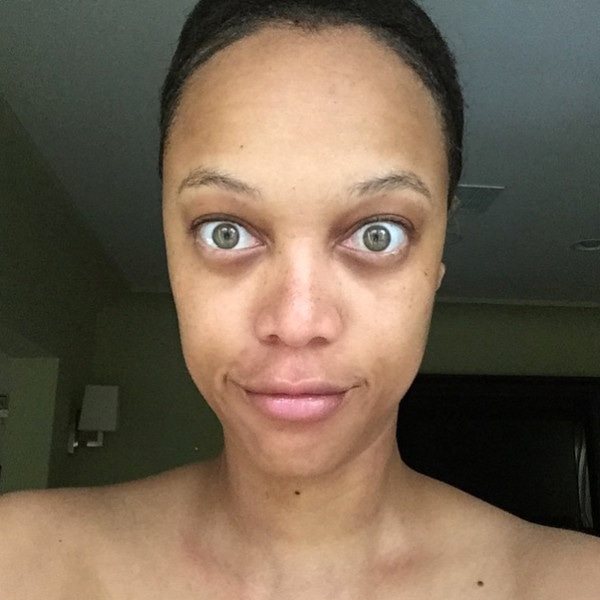 Instagram
Tyra Banks woke up like this! And she wants you to see the "real" her.
The 41-year-old supermodel and America's Next Top Model host showcased a makeup-free, wide-eyed look in a selfie posted on her Instagram page on Wednesday.
"You know how people say #nofilter but you know there's a freakin' filter on their pic? Or maybe there's a smidge of retouching going on but they're lying and saying it's all raw & real?" Banks wrote. "Well, this morn, I decided to give you a taste of the really real me."
"I wanted to smooth out my dark circles so badly!!!" she said. "But I was like, 'Naw, Ty. Show 'em the REAL you.' So...here I am. Raw. And there YOU are...looking at me, studying this picture. Maybe you're thinking, 'Whoa, she looks ROUGH.' And if you are, great! You deserve to see the REAL me. The REALLY real me. #RawAndReal."
And just so can see the difference...
Banks has been seen sporting little or no makeup before, when she was photographed in public.
She actually has her own makeup collection, TYRA Beauty, which she sells on her website.
"You know how some women wake up looking all refreshed and don't need any makeup? You know who I'm talking about: those ladies with naturally rosy cheeks and sky-high cheekbones. You're probably thinking, 'Yeah, Tyra, like you!'" the site states. "Well, guess what? I'm not one of them! I paint my pretty on!"