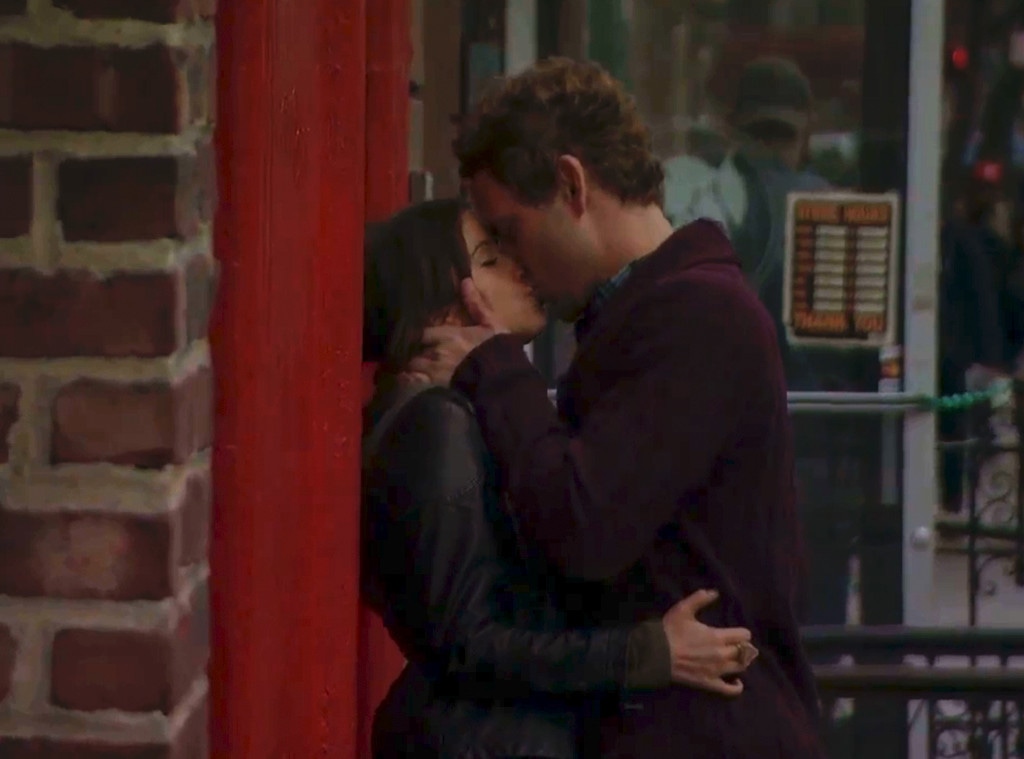 ABC
Let's talk about sex, baby. No, really.
Since the season-long super-tease aired and revealed Kaitlyn Bristowe will sleep with one of her suitors, only to tearfully say she regretted it later, the question on every fan of The Bachelorette's mind has been, who does she sleep with?!
Now, just before the episode everyone's been waiting for is about to air, a source tells us that Kaitlyn sleeps with none other than Nick Viall, the runner-up of Andi Dorfman's season who returned in the middle of the season, in Monday's episode. (ABC had no comment.)
"It happened after they spent the day touring in Dublin. During the date, they had a hard time keeping their hands off each other," a source close to the show tells us. "When it was over, she invited him back up to her hotel room." 
In the promo, Kaitlyn appears to immediately regret the decision, saying, "I made a huge mistake" and that the relationship went "too far too fast," before telling the rest of the guys what happened.
However, our source stresses it wasn't a spur-of-the-moment decision for either of them. "When it happened, they were both in the process of falling in love. It wasn't cheap. It was them taking their relationship to the next level."
Despite what she says in the super-tease, when we chatted with Kaitlyn after the premiere she said she had no regrets about the decisions she made during the season, including sleeping with Nick (though she didn't name the suitor at the time). "I don't think it was a mistake, the decision I made," she told us. "I think the timing probably wasn't the best, just because, I mean, there are other relationships developing, but just the timing wasn't the best."
And our source seconds Kaitlyn's no-regrets attitude towards the hook-up, telling us, "Kaitlyn didn't have any regrets about it. But she did feel bad about the other guys. She realized there are more people involved than just her and Nick...still, she didn't consider it a mistake."
We don't think she should either, but after the promo aired, the reaction online was intense, with some people calling Kaitlyn some less-than-nice words. Which is just awful and sad and a totally unfair standard, given that Bachelors have slept with contestants before, facing no backlash.
"I just feel like what world are we living in," Kaitlyn told us of the "slut-shaming" that went down. "It's 2015. The Kardashians talk about sex on the show all the time. I think it's just a big deal because it's The Bachelorette and they've never really gone there. It's just been this secret world in the fantasy suite."
Since his return, Nick has stirred up a lot of drama in the house, with contestants like Shawn B. and Joshua refusing to say his name, referring to him only as "the other guy," and many of them questioning his true intentions.
But a source told us Nick "weighed the decision seriously" before deciding to return. "There was a lot of deliberating. If she had started to develop feelings for someone else, he didn't want to ruin it for her. He genuinely cares for her and wants her to be happy."
And despite his less-than-ideal exit from Andi's season, Kaitlyn never questioned his intentions, telling us, "He had a rough go of the last season, and I truly believe he did show up for, here we go, 'the right reasons'" because I don't think he would put himself through that again if he didn't feel that strongly about me."
The Bachelorette airs Mondays at 8 p.m. on ABC.
—Reporting by Beth Sobol