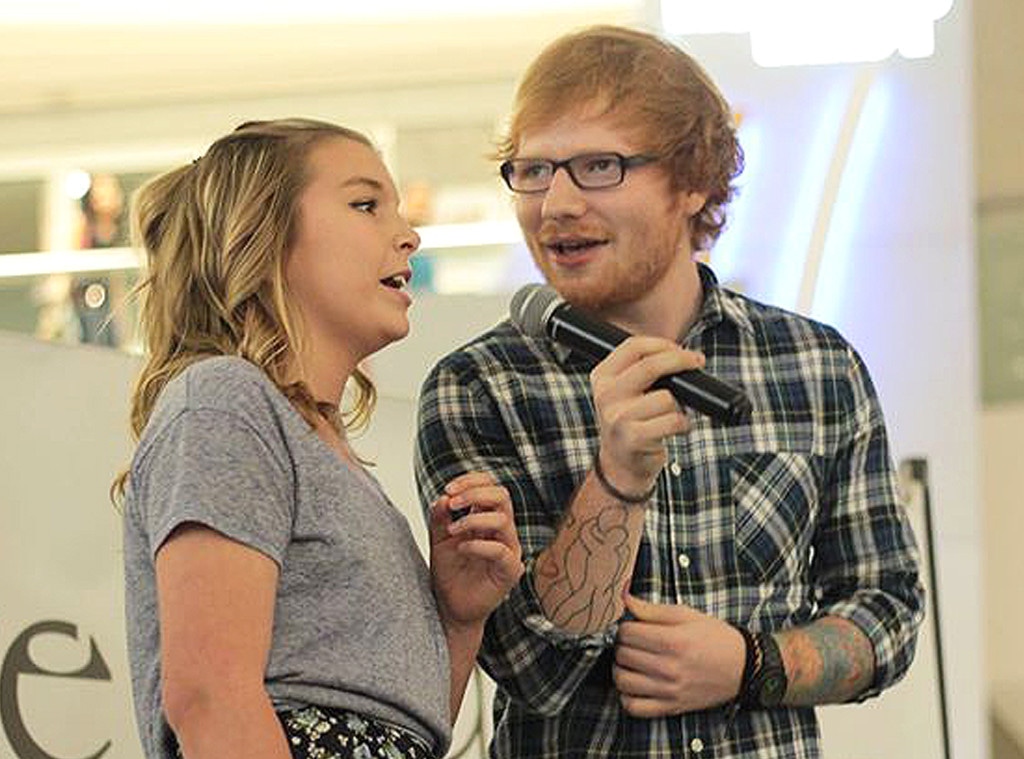 Facebook
Thinking out loud here:Ed Sheeran is a perfect human being.
If you don't believe us, well, just ask Sydney Bourbeau, who had the "most incredible experience of her life" over the weekend all thanks to this redheaded angel on earth. 
It all went down at the West Edmonton Mall, where Bourbeau, a student at the Resonate Music School, was performing as part of a celebration concert for Play for Pets,  a fundraiser that supports the Edmonton Humane Society.
Bourbeau was in the middle of singing Sheeran's hit "Thinking Out Loud" when a surprise guest popped up on stage. 
"I had just finished taking my microphone out of the stand, so I thought someone was just coming up to grab the stand or fix something", Bourbeau laughs. "I realized it was him after he came up the stairs on the stage, and I freaked! He came over and hugged me and I wanted to just cry and talk to him, but I realized he wanted to come sing his song with me!"
The 13-year-old says it "felt like a dream" and appeared to keep her composure (we would be dying!) while performing an adorable duet with her "favorite male artist."

"I'm sure it looked like I was fine, but I was shaking and my heart was beating so fast it was crazy! I was so nervous especially when he left because I was like, 'No! Don't leave!" Bourbeau tells E! News exclusively. 
Before the song was over, Sheeran wrapped up the impromptu performance, hugged Bourbeau and exited the stage. 
Bourbeau describes the experience as being "completely surreal" and admits that she was in shock when it was all done. She impressively finished up the performance alone, as any pro would, but had one thing on her mind at the end.
"I ran after him as soon as it was over but I couldn't find him,"  she says sadly.
But, need not worry because like we already said, Ed Sheeran is a perfect human being.
"His manager contacted me and asked if I wanted to come to his concert and we got front row center!" Bourbeau says with extreme excitement. 
Unfortunately, the two missed the opportunity to meet after the show but this is obviously an experience she will remember forever. 
Bourbeau says that she has been a fan of Sheeran since his first album was released in 2011 and counts "Thinking Out Loud," "Grade 8" and  "Lego House" as some (but not all) of her top picks.
When asked what surprised her most about him, she tells E! News, "His kindness and generosity. He was so sweet and cute as always, and even asked me to come to his concert that night."
Bourbeau, who wants to be a singer like Sheeran when she grows up, is getting a taste of the celebrity life since the video went viral. 
"It's all very crazy and overwhelming, but it's so fun and everyone around me is so supportive and happy for me. It's a once in a lifetime experience and I'm having the time of my life."
If anyone needs us we will be singing at the mall waiting for Ed Sheeran to arrive.