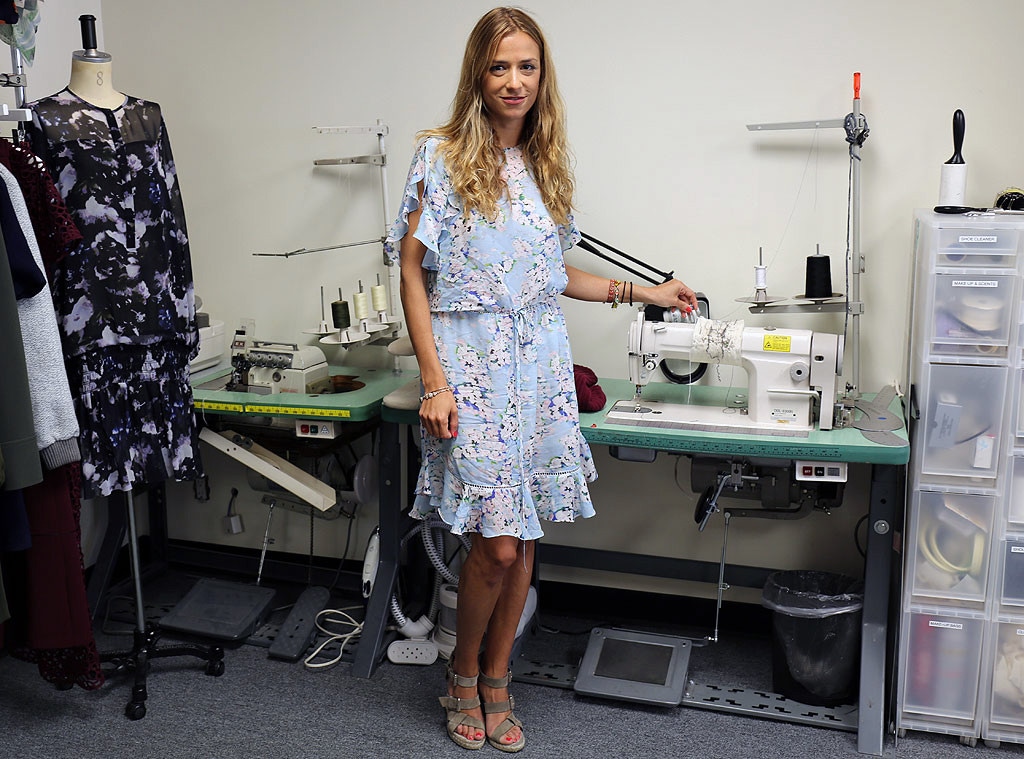 Jennifer Cooper, E! Entertainment
Eponymous designer Charlotte Ronson is a rare combination of beauty, brains and brilliance—a true fashion it-girl, she's got a wildly successful clothing line, a celebrity following that resembles an Oscars party guest list, a beauty line with Sephora and a price-friendly collection with JCPenney. And those are just a few highlights from her resume!
From landing impressive internships early on in her career to building her fashion empire from the ground up, Ronson is a truly inspiration tastemaker. Don't take it from us though—read on to hear form the acclaimed designer yourself! 
Jennifer Cooper, E! Entertainment
What was your first job?
I always knew I wanted to do something creative. I always had a passion for the arts from as long as a can remember. I was lucky enough to have the opportunity to intern at an early age. I've interned at Rolling Stone, Harper's Bazaar, and Cynthia Rowley, which is where I was able to sniff around and figure out which area of fashion I was really interested in. Through these internships, I was able to get a taste of the real working world so it didn't seem as scary. I gained lots of experience in all areas of fashion this way. I'd say in college I was leaning towards a job in fashion, which wasn't as common as it is today. So fashion was always a big part of my life, but I knew I wanted to make it my career when I first started making tank tops in my spare time and realized that my friends, and then their friends, were actually willing to pay me for them. I realized there was an opening in the market. I started by customizing existing bodies. That's when I realized it might be a real business opportunity as well as a personal passion.
How did you get started in your career?
I studied studio art at NYU, and after my many internships I wanted to be a lot more hands on. So I started small by designing custom vintage tees and tank tops for my friends. This gave me the ability to have control and learn from my mistakes. I made sure to take advantage of the wonderful, talented and successful women I was surrounded by and let them guide me. My company started out very small, and I focused on one thing at first. I think it's smart to do one thing well, rather than try to do too much. Once I had some traction with my tank tops, I expanded and then I was able to grow my private labels as well as create my more affordable collection I Heart Ronson with JCPenney. It's all taken a lot of work, but if you're passionate about what you do, it can be so fulfilling and beyond fun.
What is a typical day like for you?
I start my day with TM which has been life changing, then feeding and walking my dog and going through my many emails. Then, if I have any time to spare I will try to fit in some sort of workout and then head to the office. My typical day at the office always differs, it can be anything from design and fabric meetings, to print appointments, to Charlotte Ronson or I Heart Ronson fittings, look book shoots, press, sales meetings etc.
Jennifer Cooper, E! Entertainment
Tell us about your office décor. When did you last give your office a makeover?
Well, I am actually looking to do a full office makeover, as in a new space! I am excited to start looking for the perfect new home, and once I find it the décor will be indicative of the Charlotte Ronson aesthetic.
Do you have a workspace at home? How does it differ from your official office?
I do have a small design space in my apartment. I can pretty much sketch anywhere. 
What's the best part of your job?
Just working in a creative environment on a daily basis. And the people I meet and relationships I have formed over the years. I feel so lucky to be able to do what I love. 
Where are a few of your favorite places to shop for work clothes?
I never seem to tire of Barneys, Blue & Cream, Topshop and JCPenney, which carries my I Heart Ronson collection and has some amazing treasures, but there's nothing like wearing my own designs.
What is the best piece of advice you've ever received?
Advice that I received years ago that I still follow is to stay true to yourself, and most importantly believe in yourself.
Who are some of your career heroes?
I love what Diane Von Furstenberg has done for the CFDA, and the industry in general. It is so important to pay close attention to the woman you are, set a positive example of the woman that you want to be and how you want to be perceived.
Jennifer Cooper, E! Entertainment
What's the most daring career risk you've ever taken at work?
I would say starting my own label and just continuing to build my brand, including the launch of I Heart Ronson, has been the most rewarding risk. After you take that initial jump to go out on your own all other things don't seem as frightening or risky. Every industry has its challenges. Having your own company, especially one that's named after you, is unique because it's such a big part of who you are, and it's difficult to separate it from your personal life. Growing my business has had its share of bumps along the way, but I think as long as you stay focused on the brand and what customers come to you for, it helps. 
What are your biggest sources of design inspiration?
I take inspiration from all that is around me, my family and friends, traveling, nature, art and of course music. Traveling is forever inspiring. Of course the internet and the library are such a gift and can take you anywhere. My inspiration changes every season, so I come up with different concepts and mood boards. There are amazing costume warehouses that rent out samples or prints. They have different types of costumes from all decades, themes or color stories.
What trends can we expect to see this summer? Even this fall?
This summer you're going to be seeing lots of print on prints, mix and match approach to volume and fabric, and elongated silhouettes. Ethereal white lace is always a staple for peak summer. Denim makes its return. Key items:  jumpsuits, culottes and girlfriend/ boyfriend jeans
As for fall, flares are making a huge comeback, out with the skinny leg; '70s influence to military fashion-forward styling. 
What's something you'd never throw away from your closest?
There's a lot that I won't and can't throw away! I've been trying to, but I hate getting rid of clothing because you never know when you may wear it down the road. It's hard as a designer, because we want to keep all of our pieces!
Jennifer Cooper, E! Entertainment
Finish the sentences below:
Today for lunch I had… kale Salad and Sparkling water.
The first website I log onto every day is… The Daily Beast, but before that I have already checked my emails and most likely my Instagram.
The beauty product you can always find in my purse is… my Charlotte Ronson for Sephora 2x a charm crème blush/bronzer stick in Mindy, Boi-ing concealer, Nars matte Tonkin lipstick and Eye Gels from Skyn Iceland.
My usual Starbucks order is… (iced) skim latte.
If I wasn't doing this job, I would… most likely be working with children.
My favorite type of manicure is… done at the same time as my pedicure as I have very limited patience. 
Instagram or Twitter…Instagram
My favorite place to visit is… London. It's always nice to go home and spend time with family.
My favorite accessory is… my Chihuahua Oliver.
List five things that are on your desk right now… computer, snacks, Juice Press Love Me green juice, iPhone, and some new sketches.