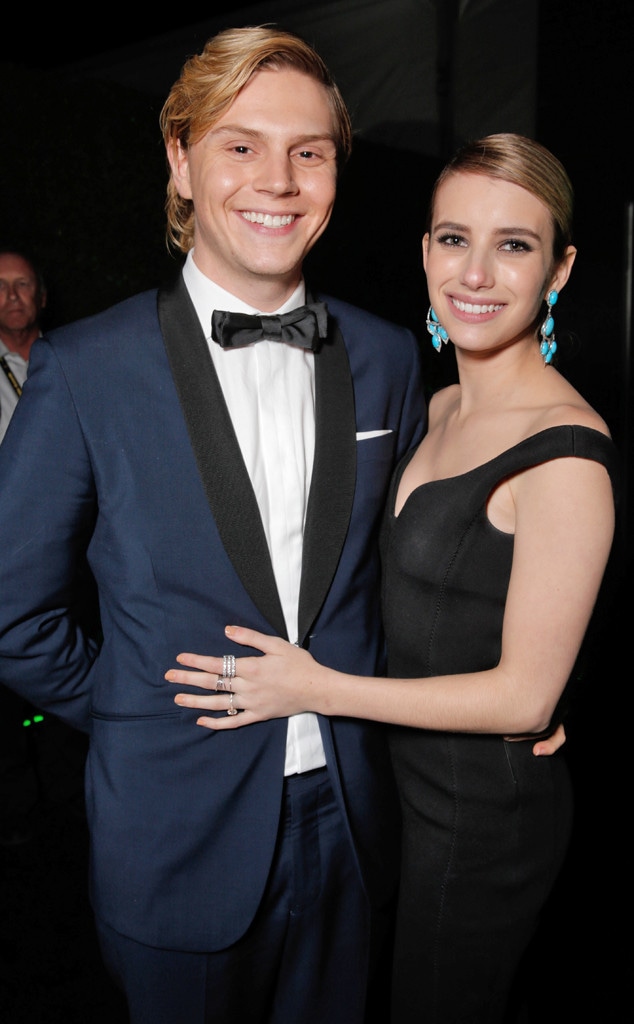 Todd Williamson/Invision for FOX Broadcasting Company/AP Images
Wedding bells won't be ringing for Emma Roberts and Evan Peters after all.
The American Horror Story co-stars have ended their engagement, according to multiple reports.
Just Jared was first with the news Friday, an insider telling the site, "Their three years together just ran its course. They have so many great memories together but couldn't make it work in the end. The breakup was amicable—there was no drama whatsoever. Emma and Evan are even still friends!"
Roberts, who was out today with a bare left hand, had not been seen wearing her engagement ring for some time.
Reps for the actors have not yet returned requests for comment.
Meanwhile, it's going to be a busy summer for the former couple, work-wise.
Roberts next appears in​ ​Ryan Murphy's new Fox series, Scream Queens, premiering this fall. The star also recently wrapped production on the movie Nerve, co-starring Dave Franco. Peters, meanwhile, is currently filming Bryan Singer's​ ​X-Men: Apocalypse​​ and will begin shooting American Horror Story: Hotel soon after.
Roberts, 24, and Peters, 28, began dating in 2012 after meeting on the set of the indie movie Adult World. They got engaged over the Christmas holiday in 2013. The exes co-starred together again when Roberts joined Evans in FX series American Horror Story: Coven and American Horror Story: Freak Show.
The actress had a crush on Peters while making Adult World, but she didn't make the first move. "He texted me and then we got together," she recalled during an appearance on E!'s Chelsea Lately in 2014.
"I had a crush on her, too, and I didn't really know how to approach her or talk to her or any of that stuff," Peters said in a Vulture interview that year. "And at the time I was a more introverted actor, trying to kind of stay into it and stay focused and not talk too much. But, yeah, I tried to talk to her a few times and, I don't know, I kept saying the wrong thing. I was really kind of awkward and stupid and like, 'Oh God, this is just not working out well. I'm just going to shut up and not talk.' I would just try to make jokes, you know? But they weren't going over very well. You know how when you like somebody and then you say things, kind of like a fifth grader? You like the person so you kind of tease them a little bit or you joke around a little bit? Emma didn't get that I was joking, so it just kind of came off all wrong."
But eventually, Peters said, "It worked out."