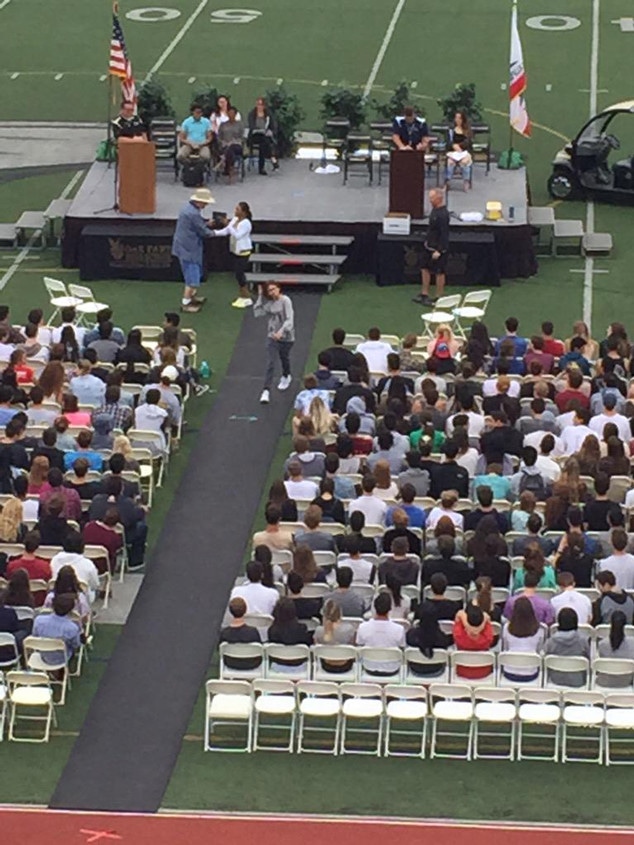 Twitter
This might be the coolest graduating class ever.
K.C. Undercover star Zendaya and gymnast Gabby Douglas graduated from Oak Park High School in Oak Park, Calif., Thursday. The 18-year-old Disney Channel actress and 19-year-old Olympic athlete actually attended Oak Park Independent School, which allowed them more flexible schedules for work purposes.
Zendaya retweeted a classmate who caught her sashaying down the aisle and flipping her hair. "So I'm doing my graduation rehearsal and I don't know anyone but they cheered when my name was called, thanks guys, ya'll the real MVP's," she tweeted. The "Replay" singer also retweeted a student who tried to steal a selfie as she "walked by" and another teen who was elated to have a star in their midst. "Thanks for finally bringing some excitement in oak park. Sincerely – everyone."
Zendaya invited one of her friends, dancer/choreographer Dominique Battiste, to attend the actual ceremony at 5:00 p.m. "With a smile on her face, she crosses the finish line...I love you so much @zendaya and am beyond proud of your accomplishments and the grown woman you have become!" Battiste wrote in an Instagram caption. "So happy I was here to witness this moment...priceless."
Parents received a notification via phone and e-mail saying parking might be an issue, as this year's graduation ceremony would have the largest audience yet. The school encouraged people to carpool. After getting her diploma, Zendaya told her Twitter followers, "IM AN OFFICIAL GRADUATE YALL!!!!!!!!!"
Zendaya shared a post-graduation picture of herself on Instagram and included a lengthy caption, writing, "Shout out, not just to all the 2015 grads but to the soon to be! Please remember knowledge is one of the most powerful gifts we have the privilege of receiving...don't take that for granted. To every soon to be grad, know that you CAN do it! (if I can get through it then anyone can) It's a long road, so many things will pose as obstacles in your way and at times the end seems further and further away, but please remember the importance of that beautiful mind you have and all the limitless powers you hold. All my love #sorryforgettingdeep."
Meanwhile, her famous friend Taylor Swift posted another picture from the graduation ceremony on Twitter. "I'M NOT CRYING, YOU ARE. @Zendaya #ProudOfYou," gushed Swift, who's currently on tour.
Like Zendaya, Douglas also shared a selfie on Instagram, writing, "not gonna lie. it was tough to balance school and gym.. but i did it!" the gold medalist told her fans. "kno when u set ur mind to achieve something u can do it. anddddd yeas i'm at the airport. gotta get right back to the grind. love u guys."