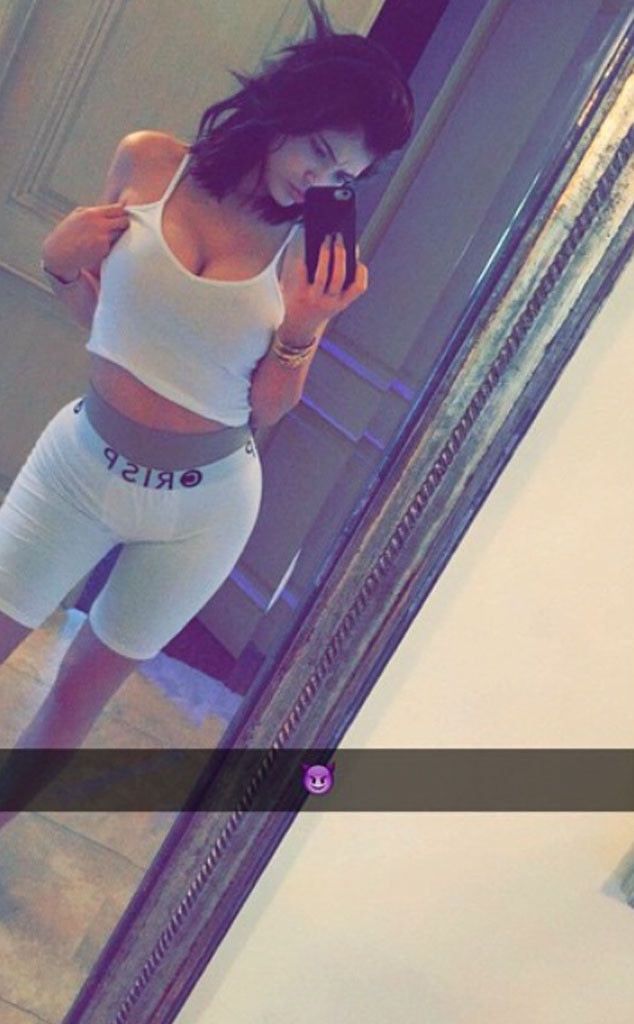 Instagram
Kendall Jenner isn't the only underwear model in her family!
The only difference is, the 19-year-old Keeping Up With the Kardashians star is getting paid to pose in her skivvies. Kendall's 17-year-old-sister Kylie Jenner, meanwhile, is doing it to show support for Tyga.
Kylie shared two Snapchat pictures of herself wearing the rapper's underwear Thursday. While it's unlikely that the boxer briefs she sported actually belong to Tyga, they are from his Crisp undergarment collection. In one picture, Kylie turned her face away from the camera and lifted her shirt. "Not doin s--t," she wrote. In the second photo, the teen tugged at her tight top and included a purple devil emoji.
Tyga debuted his line last year, and Kylie is no stranger to the fashion world, either.
In addition to designing a clothing line for PacSun, the Jenner sisters recently unveiled their first Topshop collection. "It's very light and flowy, and we based it off the typical California girl. We love it. It's super easy and summery," Kendall told E! News. Kylie added, "We don't want to say just for girls from California, obviously. It's just fun, beachy—really laidback. Nothing too tight or uncomfortable."
That said, Kylie does look to her family for style inspiration.
"I feel like I dress like Khloé on my down days and Kim when I'm going out," she recently confessed to InStyle U.K. "If I'm just running out I'll throw on a cute T-shirt, a pair of leggings and my Timberland boots. If I'm dressing up I love Céline and Saint Laurent, or for accessories Alaïa, Givenchy or Gianvito Rossi."
"I think my style is a little bit darker thanks to my mom," she said of Kris Jenner. "There are a lot of skulls around her house and the furniture is mostly black and white. She wears a lot of black too, and I think that's definitely rubbed off on me."
The sisters' Topshop line includes dresses, jumpsuits, pants, shirts and shorts. When they were creating the collection, did they ask Khloé Kardashian, Kim Kardashian or Kourtney Kardashian for design tips?
"We actually don't want their opinion," Kylie admitted. "We want it to be all us, really authentic and just from us. [This is] just for our fans specifically: It's fun, and they love our style. It's cool to have two different opinions because some of our fans might be obsessed with my style and some might be obsessed with Kendall's."