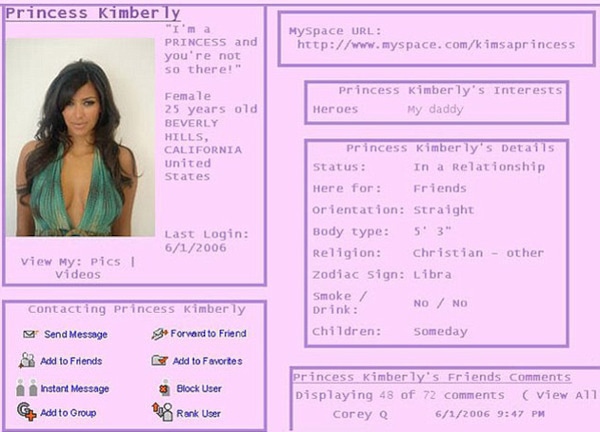 Myspace
Kim Kardashian's old MySpace page, which is now nearly 10 years old, has been recently unveiled, thanks to Us Weekly—and it's even better than we could've ever imagined. 
Before her days of breaking the Internet, the E! star was a budding celebrity with only 856 friends on the social media site—a meager number of pals when compared to her current 35.9 million Instagram followers. 
"I'm a princess and you're not so there!" reads the then-25-year-old star's profile, in which she also identifies herself as "Princess Kimberly." 
Additionally, the Libra, who didn't smoke or drink, wrote she hoped to meet "God" and revealed her hero was her "daddy." 
Jeff Kravitz/FilmMagic, Inc for HBO LA
Kim's 2006 profile, which was created thanks to pimp-my-profile.com, also lists a few of her famous family members in her top 8 friends, including Brody Jenner, Kourtney Kardashian and Rob Kardashian. 
It should come as no surprise that Kim, who is now one of the most influential celebrities, was already navigating the murky waters of social media nine years ago. At the time, she was often photographed with then BFF Paris Hilton, but just one year later, she would make her reality show debut on Keeping Up With the Kardashians, turning the brunette beauty into an Internet—and social media—sensation. 
"So many people think that taking selfies is just ridiculous. For me, what's so funny is I love taking pictures and posting them on social media just for memories," Kanye West's wife previously revealed in Adweek's March Mobile Issue. "I'm kind of letting them know, yes, it is ridiculous, but it's all fun."
She added: "It's not that I brand myself like I'm a celebrity. It's just I'm living my life and sharing a part of my life with the world."