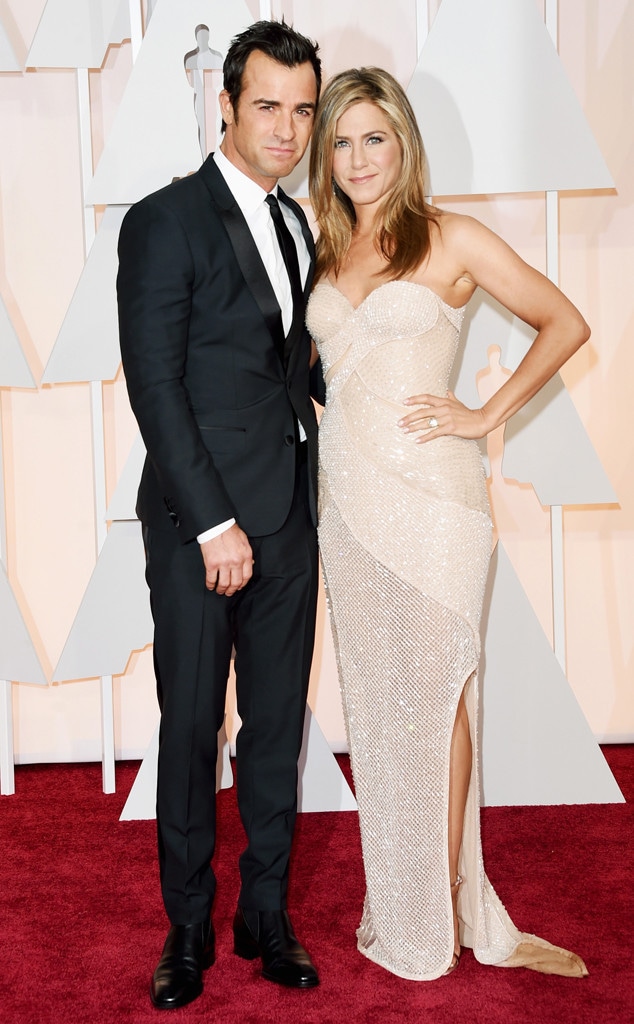 Jason Merritt/Getty Images
Nobody gets Jennifer Aniston hot and bothered quite like Justin Theroux.
When she first laid eyes on the screenwriter while visiting mutual friend Ben Stiller on the set of Tropic Thunder in Hawaii in 2007, he made her nervous. "He was wearing black, black, black," she says, "and I started to sweat just looking at him."
(That's much nicer than what the 46-year-old actress told Pop Sugar in 2012. "I remember thinking he was very dark," she said of Theroux, now 43. "At first you think he could be like a serial killer, but he's the nicest person in the world.")
The actors reconnected in 2010 on the set of their movie, Wanderlust, and they began dating the next year. Theroux proposed to Aniston on his 41st birthday in 2012, giving her an estimated $500,000 ring. "I just think it's so beautiful," the bride-to-be says. "I love it because he picked it, put it into a setting and it's simple."
When the couple marries, Aniston tells People Theroux will have no problem wearing a ring of his own. "He's got a lot of hardware. He wears a chain. He has a gold chunky ring. When we get married he will be wearing his ring. It just won't say Justin anymore," she says, adding that it will likely say Jen "on the inside."
When the couple's wedding will happen is anyone's guess.
Aniston talked to InStyle earlier this year about that very dilemma.
"There's a big discussion in our house right now: Do you just do it and say screw it? Or do you try desperately to get away with [a secret ceremony] where you don't have any fun because you're hiding in a cave somewhere?" said the actress, whose wedding to Brad Pitt in 2000 cost a reported $1 million. "If we could do it without all the buzzing and the noise...It can be done. Where there's a will there's a way."