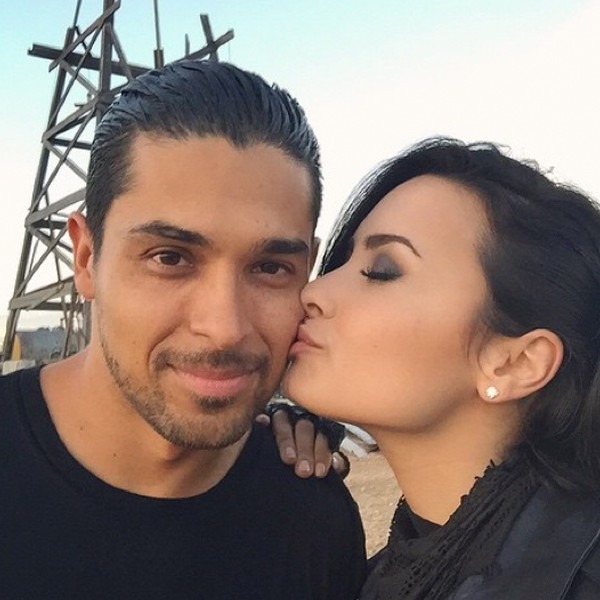 Instagram
The couple that works together stays together!
Demi Lovato and Wilmer Valderrama are going from couple to co-stars as the singer is set to guest star in the season two finale of her longtime boyfriend's TV show From Dusk Till Dawn, E! News has learned. While there were no details about who she'll be playing in the series, based on the film of the same name, we do know Lovato will appear in the season two finale.
Lovato posted an adorable pic of her kissing Valderrama on-set, with the caption, "After a long night's work..." Awww!
The singer also snapped a pic with the series' creator Robert Rodriguez while on the Austin set, writing, "Me and the boss @rodriguez... We worked #fromdusktilldawn... Get it?? Y'all ain't ready..."
Last week, Lovato gushed over Valderrama on Instagram after a shirtless photo of That '70s Show alum from the El Rey series was released. "Are you f--king kidding me?!! I'm so in love it's ridiculous," she captioned the pic on Instagram.
And when we chatted with Valderrama at the 2015 ATX TV Festival in Austin, he admitted, "That was very unexpected! When I read Demi's post, I was very flattered and I turned red again. But it was very sweet."
Valderrama continued, "It was a little embarrassing! I've never done that before. I've never done that in my career really, where I've done the shirtless picture of it all. I was a little embarrassed, I was a little bashful about it, but Robert [Rodriguez] gave me that nod of, 'Trust me, it's going to be fine. Cool lighting, the torch in the back, everything's going to be fine!"
To get in shape for his first-ever shirtless scene, Valderrama said, "The truth is to look that way you have to eat a lot and work out really hard. I wasn't trying to look like a model when I did that, I wanted to look like someone who could actually really be a threat to the rest of the cast."
But don't let Valderrama's shirtless snap and Lovato's cute on-set PDA pic fool you as season two of From Dusk Till Dawn is going to be pretty darn dark. 
"It's darker. It's going to be a little more twisted...Every character will go through their own personal hell," Valderrama told us.
From Dusk Till Dawn premieres Aug. 25 on El Rey Network.