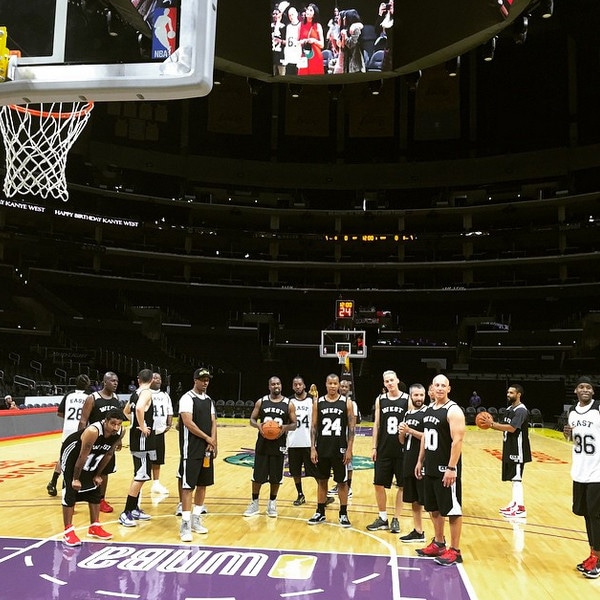 Instagram
Kim Kardashian is the best wife ever!
The 34-year-old Keeping Up With the Kardashians star rented out the entire Staples Center in L.A. Monday so that hubby Kanye West could celebrate his 38th birthday with his bros on the basketball court.
"Kim rented out the Staples Center so Kanye and his boys could play an NBA-style game with real refs and Laker girls!" a source tells E! News exclusively. "John Salley is the announcer. Houston Rockets player James Harden and rapper 2 Chainz are the coaches. John Legend sang the national anthem."
The insider adds that Justin Bieber, Tyga, Pusha T and all of Kanye's friends are playing today in addition to NBA stars Russell Westbrook and John Wall. Kobe Bryant, Magic Johnson, Carmelo Anthony, Shaquille O'Neal and Scotty Pippen all made videos that showed up on the jumbotron.
But that's not all. Kim also surprised Kanye by building a basketball court in their own backyard! The source adds, "He's obsessed w basketball."
So how much did renting out the Staples Center cost Kim? The source says she was able to rent out the space for a whopping $110,000!
Kim's sis Khloé Kardashian took to Instagram today to share a pic of Kanye's special celebration. "Kim rented out staples bitch!!! Him and his boys are going to ball!!!! Happy birthday Yeezy!!!!" Khloé wrote.
In the accompanying photo Kanye holds a basketball while wearing a jersey that reads "West" on it. The rapper flashes a giant smile while surrounded by his many guy friends, who are also all wearing jerseys.
On the jumbotron above the players appears to be Kim and little sis Kylie Jenner watching the game. Kylie shared her own cute courtside pic with Khloé and Malika Haqq, writing, "Sisters @ the staple center !"
Talk about a helluva birthday party!
Earlier today, Kim wished her man a happy b-day on Instagram with, "Happy Birthday to my best friend in the entire world! You are the most amazing husband & dad! You inspire me every single day! You make all of your dreams reality & it's fascinating to be by your side & watching it all happen! You have a heart of gold! Have the best birthday ever! #SWISH."
Too cute.
—Reporting by Ken Baker