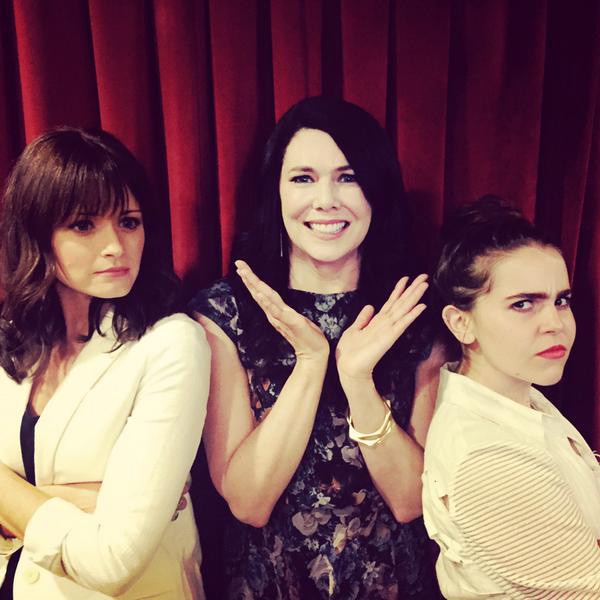 Twitter
Rory Gilmore vs. Amber Holt. The winner? Us!
Lauren Graham has taken part in two of TV's most iconic and beloved mother-daughter duos, and her TV daughters, Mae Whitman and Alexis Bledel, came face-to-face for the first time ever over the weekend at the 2015 ATX TV Festival, and the result basically redefines the word epic.
Whitman posted a photo of the trio on Twitter on Monday, with the caption, "AT LONG LAST WE MEET #drawyourswords#breaktheinternet." Their facial expressions? Priceless.
Graham and Bledel were at the event for the highly anticipated Gilmore Girls reunion, while Parenthood star Whitman is an ATX TV Festival regular, and participated in the live-reading of the Dawson's Creek pilot, playing the role of Dawson (James Van Der Beek). Yes, it was as awesome as it sounds. 
Bledel played the Rory Gilmore to Graham's Lorelai Gilmore for seven seasons on Gilmore Girls, becoming TV's quippiest and most coffee-obsessed mother-daughter duo. On Parenthood, which ran for five seasons on NBC, ending earlier this year, Graham and Whitman played Sarah Braverman and Amber Holt, the small screen's most emotional mother and daughter. Come on, it's impossible to choose between the two relationships, right?!
Whitman has joked of the fake fictional-daughter feud in the past, telling Fusion, "Me and Lauren's joke that's not really a joke is me being like, 'Oh, I see Alexis called today, how is she?!'" she said. "I get really overly mom-child protective of her."
During the festival, Graham posted a selfie with Bledel, writing, "I've missed you, @alexisbledel." Bledel's response? "LG!!! Missed you too!" Awww!
Of course, her other daughter got some social media love, with Graham posting a photo of Whitman and Miles Heizer, who played her son, Drew, on Parenthood, with the caption, "My entourage."
#FamilyGoals, right?!
--------
Update! It seems that Lauren Graham's (or Lorelarah Bravermore, as we're calling her) two daughters have officially made up and joined forces. Mae Whitman posted another adorable pic on Twitter of herself and Alexis Bledel having clearly made up. 
"JK YALL!" she captioned the sweet pic. "We decided to adopt each other; meet Rory and Amber Bravermore!!!!!" 
May this past weekend never stop bringing us joy, please.