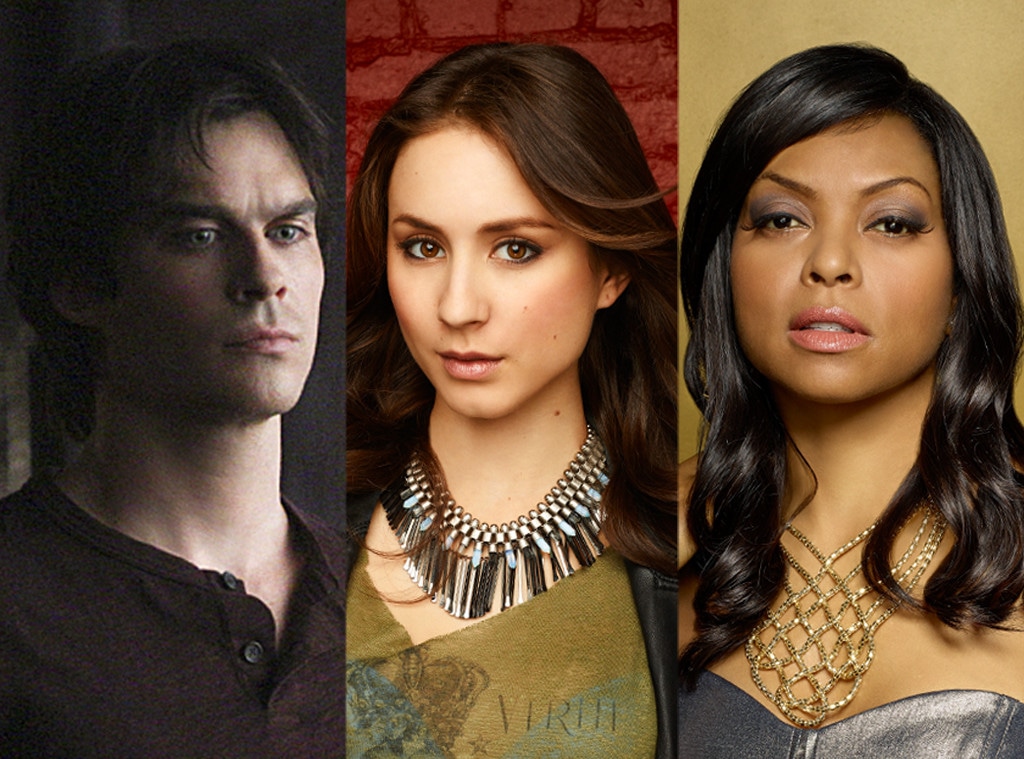 FOX/CW/ABC Family
Is a new man moving in on some nookie with Cookie? Maybe so, and regardless, I could write the phrase "Nookie With Cookie" all day...and maybe even start a band and name it that. Empire has a hot new guy coming in for season two, and we have a little crumble of scoop on that. Plus, the latest on Pretty Little Liars (how insanely good was that premiere?!), Teen Wolf, The Mindy Project and more...
Danielle: I am obsessed with Adam Rodriguez so I definitely freaked out when I heard he was joining Empire! What can you tell us about his role?!
The Magic Mike star is playing a concert promoter who becomes Cookie's love interest. So will he bring out a new side of our beloved leading lady? "I'm not saying nothing," Danny Strong hedges, "but it's going to be a good part, and he's great for it. I'm really happy he's doing it."  As for season two's overall theme, it's all about "warring kingdoms," Strong teases. (Meaning Danny Strong teased that, not that these teases are strong. Iron trap, that show!)
Maddie: I am so glad Pretty Little Liars is back and that the girls got out of the Dollhouse! But how will their friendship with Alison be?! I want them all to be friends again!
Of course, the girls are "going to be a little strained," after everything they've gone through lately, with Sasha Pieterse telling us, "Where they left off before the dollhouse, they had helped Alison get convicted for a murder she never committed. So already, their friendship was in an awkward started and now that all five of them have been through so many different things, they all isolate themselves and deal with all their inner-demons." Fortunately, she adds, "But these girls have such a connection, they can't really keep away from each other."
Natalia: I adore Getting On! So happy/sad it's coming back for a third season. Any scoop?
The love for Getting On runs strong here as well. Get ready to meet a new doctor in the geriatric extended care institute. Dr. Ron Rudd is in his late 30s, cute, funny and oh-so charming. When he comes in, well, he becomes the objection of desire for not one, but two workers at Billy Barnes.
Watch:
Mindy Kaling Talks Moving Her Show To Hulu
Carly: I feel like Hulu has saved my life by saving The Mindy Project. What will the new season be like?
We totally feel the same way, and we feel even better about this news after hearing Mindy herself talk about the new, supersized season. "We have 26 episodes, so we're really taking liberties," Kaling reveals. She says the move to Hulu is actually allowing the show to go more "conceptual," which apparently means getting up close and personal with one Morgan Tookers. "We're doing an episode that I want to direct that's just following Morgan from when he wakes up, and his weekend, which is great." That is great. Terrifying, but definitely also great.
Phoebe: What can you tell me about iZombie's season finale?
Get ready for some insane action. While this show usually lives in the quieter scenes rather than major fight scenes, there's one sequence in tonight's season one finale that is so epic, you'll actually forget what show you're watching. Is this The Walking Dead?! Executive producer Rob Thomas reveals that they actually shot for an extra two days to get those scenes just right, and all that hard work clearly paid off! 
 Miranda: I'm going to need some Chasing Life scoop, stat.
Are you ready for a jam-packed season two? You better be, because that's what we're getting when the ABC Family drama returns. "April and Leo's engagement is really putting us in a fun place for the second season," executive producer Patrick Sean Smith says. "We're shooting right now on set, and we're heading to Boston to shoot there. And it's a really big season. There is not a single filler episode to be had. I'm proud of the scripts we have, and it's reinvigorating to take April in the direction where it's not all about her chasing the article or byline but she's actually chasing her life and being more proactive in all her relationships. There are some big changes coming for April this season."
Sam: Got any scoop on Switched at Birth?
Start stocking up on tissues now, because the heartbreak and hard times are only going to get worse next season. "With Bay dealing with the fallout from her breakup, Kathryn always tries to keep a stiff upper lip and keep everyone moving forward with a lighter touch," Lea Thompson says. "She's going to move forward with her musical, but she's also going to get hit with a lot of new drama. There's going to be big financial problems with John and Kathryn and that's going to be really challenging. They're so used to being able to fix everything and being the mama and papa bear, but they can't this time and that's going to be really hard on them."
Rhiannon: I am in need of some Jane the Virgin scoop—stat!
How about the return of Lillian? Rita Moreno tells us she's hoping to come back, saying the character did very well with the audiences. "It's due to [Gina Rodriguez] that I was on the show. She's been a big fan for a very long time. She said I was her inspiration, that's how I ended up on the show because she requested it," Moreno, who is currently voicing a character on Sprout's Nina's World, says.
Amy: More Suits scoop, please!
Since you asked so nicely, of course. The below conversation happened at the NBCUniversal Cable Upfronts.
Gabriel Macht:"We have one really big surprise, I don't know if I'm allowed to talk about it."
Rick Hoffman: "No, you're not."
Gabriel: "When I say big…"
Rick: "A big round surprise." 
Spoiler Chat is new every Tuesday at noon ET/9 am PT on E! Online. BOOKMARK THIS PAGE so you can always find it!
Follow Kristin Dos Santos on Twitter, Facebook and Instagram and send in your questions there! (I read every single one!)
—Additional reporting by Tierney Bricker, Chris Harnick, Sydney Bucksbaum and Lauren Piester