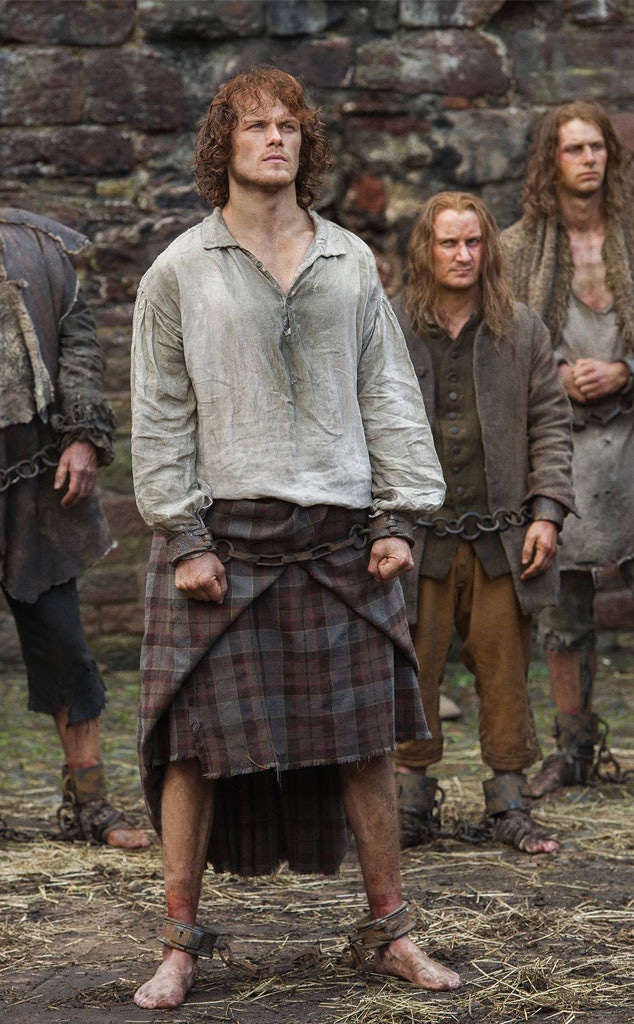 Starz
Outlander fans around the world, welcome to the first official day of #Droughtlander2015. Tonight, you'll have to live your life, get some fresh air, or (shudder) visit loved ones and friends because…There is No. New. Outlander.
To help ease the pain a wee bit, I chatted with Sam Heughan this morning about his stunning portrayal of Jamie Fraser in season one, and the much-talked-about sexual assault and recovery scenes in last Saturday's season one finale.
Heughan's brave and soulful work has earned him Emmy Award buzz, and rightfully so. The dark, emotional depths he had to go to are unparalleled by any other leading man this TV season. His performance elicited overwhelmingly intense emotion among viewers—who, one week later, probably still have no tears left to give.
Here, Sam talks about the response to Outlander's greatest risk yet, what has surprised him, and what's ahead for Jamie and Claire in season two. (More to come next week.)
[Fan-to-fan note: This is what it sounds like when Sam Heugan calls you early on a Saturday morning, from Scotland…Next time I promise to invite you over.]
Well, hello there.
Hi, Sam. Good…morning?
We're in the afternoon here. What time is it there?
It's 7:30 a.m. I figure we're talking so early so that we can't get into any trouble drinking whisky.
Unless you are still going from last night. Do you never sleep then?
No, it's fine. I have two small children so I'm used to being up early. Do you sleep?
Honestly? I get probably more sleep than you. The two small children thing sounds terrifying. (laughs) I'm not sure I'd be able to cope with that. No, honestly we're on a pretty tough schedule. We just spent a week of night shoots so we're all kind of jetlagged. You go to bed when the sun is up and the birds start singing, and I haven't done that since I was a teenager when I was up all hours. It's good though. It's really nice to be back.
Well, my friend, first of all, I have to say, congratulations. I'm sure you had some anxiety going into those episodes and how it was going to be received and everyone has been so positive. You must be so floored.
Honestly, I just have to say thank you, to the fans, and to you. The reaction has been pretty positive and yeah, I was nervous about what people would think about it. We knew even the fans who read the story, just in seeing it, that's different than reading it. I knew the fans would be shocked. There's a sense of relief, too, in people knowing what we're talking about when we're talking about the end of the season, and where they are in their relationship and where they're going. So it feels like we're all on the same playing field again, which is nice.
Going into Outlander's finale with the sexual assault, there was a lot of talk about the Game of Thrones rape and people were upset about that. But the responses could not have been more different. But how did you expect it to be received and are you surprised?
Yeah, I saw that episode last week. I had obviously heard that it had happened, but I mean, they did it really well. You know, just playing off someone's face, it's all about what do you show and what do you not show, and what's more powerful: The imagination or actually seeing it. But it's certainly, on our show, it's crucial to the characters and the relationships and that you know exactly what we've gone through. And yeah, I was really shocked by the response. I knew we'd done some really intense work and I was really proud of it, but I didn't know what people  would make of it. I know that a lot of it comes down to the director Anna and Ron editing as well. We did go farther in some places and there was pullback in some places, but I think we really found that fine line. It's challenging viewing, but I think that's sort of what viewers want these days.
I was directed to [Outlander book series author] Diana Gabaldon's Facebook page, and there are a lot of real victim reactions there that are touching, and they are overwhelmingly positive. You were able to show not just the physical ramifications but psychological ramifications and did things in a way that people did not find gratuitous. What does that mean to you?
I have been contacted by people who have been in similar situations or in some sort of crisis. And I believe as well, it's not just about the act that Black performs on Jamie. It's about breaking him down and not just physically. Jamie can handle anything, but it's the mental stuff that forces Jamie into some really dark places. And also seeing Jamie recover from that and deal with this traumatic situation is powerful. And it's very individual. People in that situation deal with it in different ways, and have their own way of dealing with it. And it's nice that we don't shy away from it. That we don't turn the camera away from it. That we see the aftermath of something like that . And it continues on into season two a little bit.
In season two, what can you say about how Jamie and Claire's relationship has changed?
I don't think it's ever going to be the same again. They've learned about themselves, they've learned about each other and their relationship. But they have a lot to deal with now. There's the new responsibility that Claire's now pregnant so she has that going on and Jamie has this mental side, and he's got to get over that. And obviously they have to fight even harder to get together, but it's not about escaping the British or escaping Wentworth. It's more of a mental fight and a psychological one. But what happens in France is they have to team together for the greater good, and ultimately it will make their relationship a lot stronger. It's been a really interesting journey to play all that and to be given that gift as an actor, has been incredible. I mean you rarely get that on television. So it's quite refreshing actually.
The word "Emmy" keeps being thrown out there. Even before the final two episodes and then particularly with the final two. Did you have any hopes or expectations when you signed up for this series that this show, and your performance, would be taken seriously as award-worthy? And how does it feel to know that not just the fans, but the media as well are saying, this is an Emmy worthy performance?
It's kind of a shock. You don't think about that at all when you're filming it obviously, and you're just trying to do the best work you can. And I think if we are being talked about in any sort of capacity, it's just because everyone is working their butts off on the show, and everyone's doing a really good job. And if people want to reward it, then that's even better, but I guess the best part of it is the reaction from the fans, and the people watching it, that's the real payoff. If there is anything else beyond it, then that's just a bonus.
Stand by for more from Sam next week. We have to parcel these goodies out, right? Or we'll never survive #Droughtlander2015.
And best of luck to Sam and the rest of the Outlander cast and crew when the Emmy nominations are announced mid-July. Such a fantastic first season.