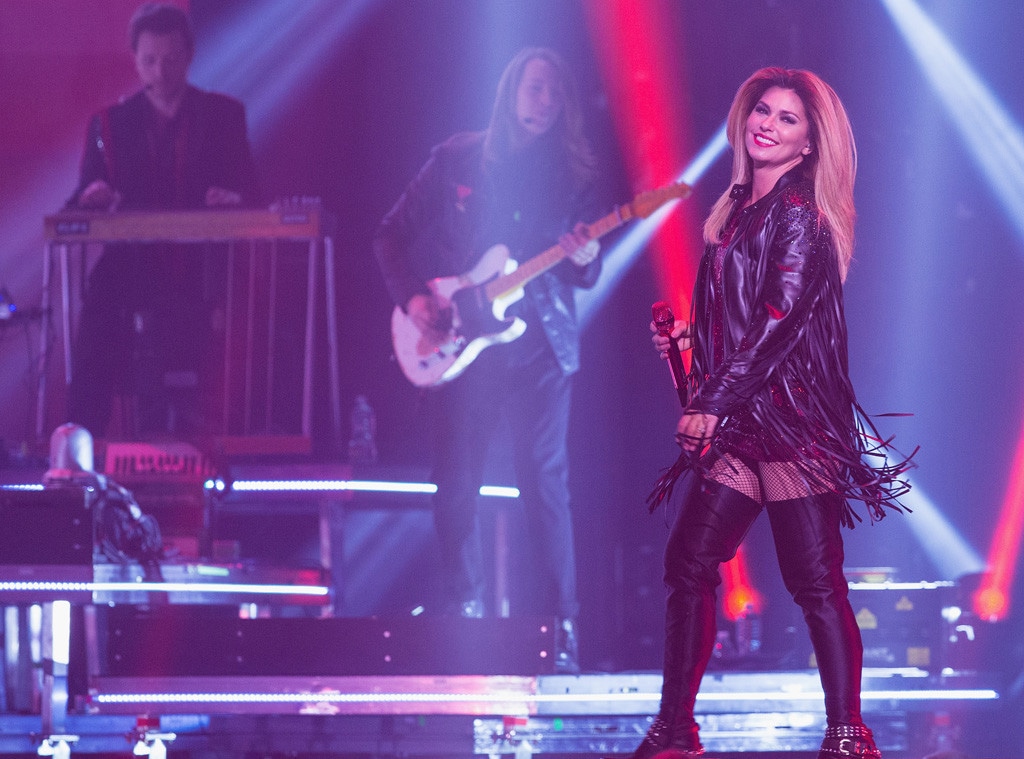 Mat Hayward/Getty Images
Shania Twain, is that you?
The 49-year-old country star debuted blond hair and her sexiest onstage looks yet at Seattle's KeyArena on Friday, where she performed the first show of her final (yes, final) tour. Her Rock This Country tour is also her first concert series in 11 years and follows a two-year residency at Caesar's Palace in Las Vegas.
One of the singer's looks was part Rocky Horror, part Kinky Boots, part Stevie Nicks and overall hot rock chick—she wore black, thigh-high chunky boots, paired with fishnet stockings, a sparkling red mini dress, a black fringed jacket and red aviator sunglasses.
Twain delighted the crowd by kicking up her legs enthusiastically on stage and performing some of her biggest hits, including "That Don't Impress Me Much," "Come On Over" and her encore, "Man! I Feel Like a Woman," during which she wore a black and metallic bodysuit that showed off her amazing figure.
She later opted for the opposite look—glittering red thigh-high boots and a flowing, off-the-shoulder black top.

Twain had told Rolling Stone recently that her tour would be more "rock themed."
The singer is set to perform in various cities in the United States and Canada through October. Also this year, she plans to release her fifth studio album, the follow-up to her 2002 hut record Up!.
"Right now I feel as if I'll be satisfied after the tour to not perform anymore," she told Rolling Stone. "I'm not so sure I can speak for 10 years from now. I've learned that about life in general. I never thought that I would ever be up on the stage again, but I was up in Vegas and getting over that hurdle, so I never know what's around the corner. But I'm not retiring in my career by any means.""