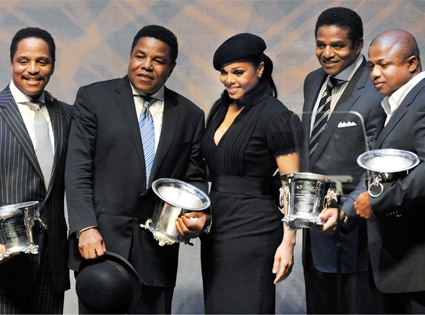 AP Photo/Chris Pizzello
Apparently Detroit didn't want a repeat of Boobgate.
Facing pressure from officials at the Palace of Auburn Hills arena—and not wanting to be a scofflaw—Janet Jackson nixed a racy segment of her oh-so-troubled Rock Witchu tour Tuesday.
Because of a Michigan law that forbids simulated sex acts in a public performing space, the Control diva nixed her usual concert routine of inviting onstage a male audience member, tying him down and pretending to grope him while dancers mime various sex acts around them, including masturbation.
"Janet did not want to disappoint her Detroit-area fans again, so we adhered to Michigan's state ordinance and trimmed the 'Discipline' segment of the show so it would not be canceled," Jackson's manager, Kenneth Crear, says in a statement.
During the encore, Jackson apologized to fans for leaving out the raunchy number, which she's performed on past concert stops, including the Palace, without controversy.
Aside from the trimmed set, Jackson's Rock Witchu road show has been tripped up by her health problems and opening act LL Cool J's unexpected bailing earlier this week due to "scheduling conflicts."
Maybe her next trip will be a bit more successful—especially since it's supposed to be a "family affair."
Janet is reportedly going to join Jackie, Tito, Jermaine, Marlon and, yes, Michael for a long-awaited Jackson 5 reunion tour, their first major outing since 1984's massively successful Victory jaunt.
In an interview with the Australian Associated Press, Jermaine Jackson said that all five original members of the Motown supergroup plan to get together in 2009 for a series of concerts that would see Janet performing a solo set as the opening act.
"This has been a long time coming for the Jackson family to get back together," said Jermaine. "What we've been doing is working on the music and all the logistics.
"It is going to be more like a family affair, Janet's going to open and, of course, the original Jackson 5: Michael, [youngest brother] Randy and the whole family. We're in the studio, we're planning on being out there next year."
The Jackson 5 last teamed up onstage in November 2001 at New York's Madison Square Garden when they performed a greatest hits medley as part of Michael's 30th anniversary solo special that aired on CBS.