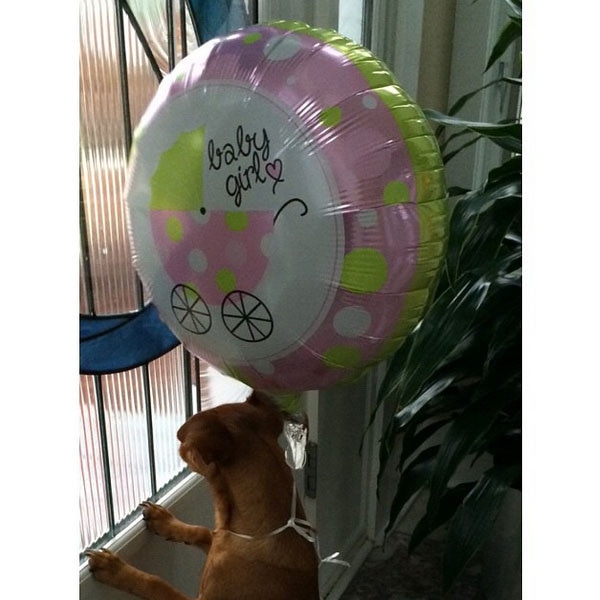 Instagram
Ludacris is officially a dad times three!
The 37-year-old rapper and wife Eudoxie have welcomed their first child together. "The baby's name is Cadence Gaëlle Bridges," a source tells E! News. "She was 7 lbs, 4oz and beautiful like her mom. Her middle name means 'a father's joy.'"
Eudoxie announced the news to her Instagram followers on Thursday, posting a pic from the hospital of a "baby girl" balloon alongside a caption which read, "She is here #blessed #grateful." 
Likewise, Ludacris confirmed the wee one's arrival via a Throwback Thursday pic on his own Instagram page. "#tbt now @eudoxiee will be switching places. #blessings #love #life," he wrote. 
The Furious 7 star revealed that he and his wife were expecting back in March by posting a pic which saw him kissing his wife's growing baby bump. 
The couple previously announced they were engaged just one day after Christmas 2014, and the two stunned fans when they revealed they had already gotten married just a few weeks later (a source later told E! News that the proposal and the wedding occurred on the same day). 
"It was a beautiful wedding," an insider told E! News at the time. "The wedding was small and only close friends and family were in attendance. Ludacris was so thrilled to be getting married and filled with such love for his lady. He was a bit nervous when it was happening but in a very good kinda way."
Prince Williams/FilmMagic
"They both want children so that's something that will likely happen in the next year," the source added. 
Eudoxie, who is founder of Unspoken Angels, a non-profit organization that supports and educates young women who have been the victims of mental, verbal and sexual abuse, also opened up about their whirlwind nuptials to E! News. "We chose a simple and intimate wedding that was perfect for us," Eudoxie shared exclusively. "We wanted the day to be about our loving commitment to each other."
The rapper has two children from previous relationships. He won primary custody of his 1-year-old daughter Cai with ex Tamika Fuller in February. 
Congrats to the happy couple!
—Reporting by Marc Malkin