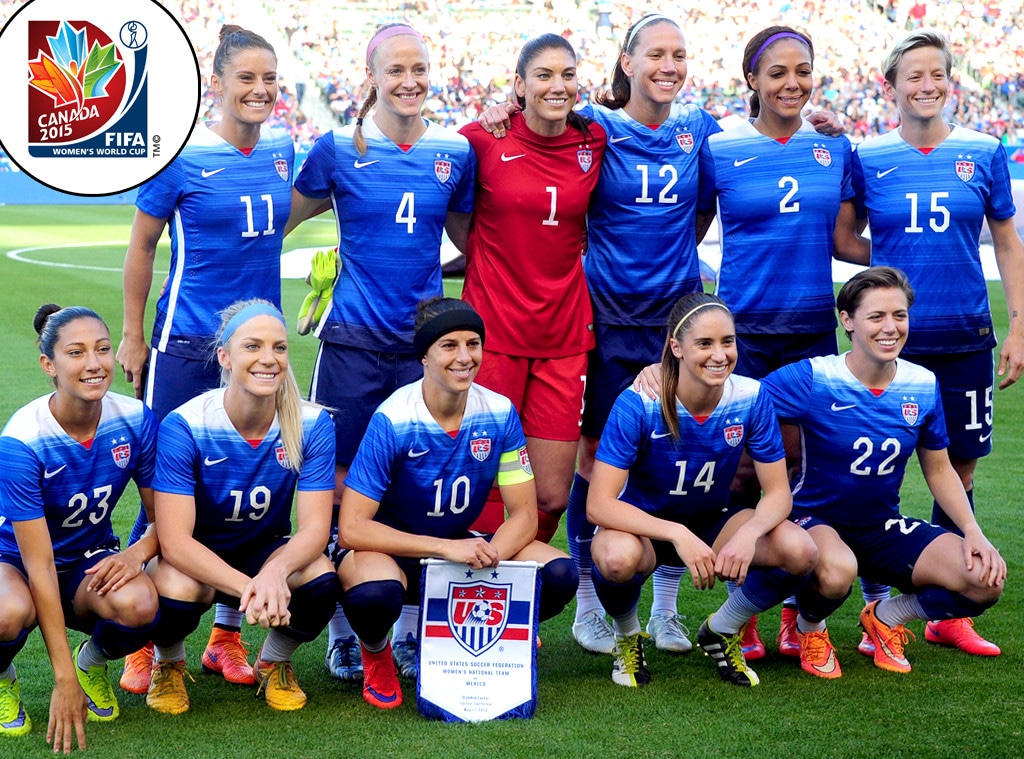 FREDERIC J. BROWN/AFP/Getty Images
Has the on-going FIFA corruption scandal finally piqued your interest in soccer!? If you said yes, welcome to the beautiful sport everyone in the world (besides Americans) cares about! We are happy to have you on the bandwagon, even if it because of mafia money trading and former executives reading Onion headlines. 
Lost in the scandal is that there is an actual World Cup tournament that starts this weekend.  
So unless you are die-hard soccer devotee (pat yourself on the back), we've broken down the seven biggest things to know about the upcoming Women's World Cup in Canada, so you don't look ridiculous when words like Wambach are used for the next month and you think it is some sort of shot of Australian whiskey. 
1. Team U.S.A. Is the Favorite: Of course we are! We're The Good Ol' U.S. of A! We're amazing and always the favorites at everything (unless we are talking about men's soccer). FiveThirtyEight projects the U.S. at the best shot of winning the tournament at 28 percent, which doesn't sound that high, but we'll take it. Even though they made the finals in the last World Cup in 2011 (before losing in a gut-wrentching penalty shoot-out to Japan), the U.S. hasn't won the World Cup since 1999(!). So why is this our year? The U.S. is loaded with talent. Fifteen players on the roster have previous World Cup experience including Megan Rapinoe, Abby Wambach, Hope Solo and Alex Morgan. So forget this whole tournament! Just give us the trophy already. Except…
2. We Are In the "Group of Death:" Just like their male counterparts in last year's men's World Cup, the women are also pitted to start the tournament in the so-called "group of death" featuring three other stacked teams: Australia, Nigeria and Sweden. Team Sweden is coached by longtime former U.S. coach Pia Sundhage, who led the U.S. Women's national team to two Olympic gold medals (2008, 2012) and last tournament's World Cup final appearance in 2011. The U.S.'s first match is against Australia on June 8. 
3. Hope Solo! She Still Plays For Us! Same With Abby Wambach and Alex Morgan! Hooray! (That's Good, Right?): When all on the field together, Solo, Wamback and Morgan are some of the best players in the world, however there are major question marks for them in this tournament. Solo had a much publicized arrest last year and subsequent 30-day suspension this year for domestic violence, which she admitted back in March that she entered therapy to address her "pain and anger" issues. Solo seems to have pulled herself together on the pitch the last few matches. Wamback is the leader and star of the team and is the all-time leading scorer in women's international soccer history, but just turned 35 last week. Can she play practically every minute like she did in the previous World Cup to make up for the potential absence of a very key player? Which leads us to our most important question, how much of the tournament will Alex Morgan play? She is nursing a left knee injury and hasn't played much the last few months, so her status for the tournament is unknown. And speaking of injuries.
4. They Are Playing on Turf: Yes, you heard right. There are still stadiums that play on that artificial substance your grandparents from Arizona have on their front lawn. And the entire Women's World Cup will be played on it, which could make the players more susceptible to injuries. A group of players, led by Wambach, sued FIFA and the Canadian Soccer Association for gender discrimination, saying the men's World Cup would never be played on anything other than real grass. FIFA never budged on the suit and the players ended up withdrawing their complaint. Stars like Tom Hanks and Kobe Bryant took to twitter to support the players. 
And speaking of archaic and ridiculous... 
5. Will Out-going FIFA President Sepp Blatter Even Show Up? Who knows if newly re-elected and recently resigned FIFA President Sepp Blatter will make it to watch the tournament at all? Besides the fact he might be someone the Feds are going after in their on-going corruption case, FIFA announced last week that Blatter is scheduled to attend the final, but that was before his resignation last Tuesday. So it's anyone's guess at this point. FIFA corruption scandal aside, Blatter's history of being a troglodyte by saying horrifically sexist and deeply moronic things is grounds enough for him not to attend the games. Blatter has called himself the "godfather" of women's football (sure), and in 2004 he suggested that female players should wear "tighter shorts" in an effort to make the game more interesting and appealing to male viewers. Oh dear. Enough of Blatter though, back to the tournament…
6. Our Biggest Competition: Currently atop the FIFA rankings (which has the U.S. at No. 2), the No. 1 ranked German squad are the biggest challenge the U.S. needs to overcome to win the whole tournament. FiveThirtyEight projects the Germans having the second best odds to win the whole thing at 27 percent. Besides Germany, FiveThirtyEight predicts the reigning champions Japan as having the next best odds at 10 percent, followed by France at 8 percent and Brazil at 6 percent.
And finally...
7. There's A Mascot and Her Name Is Shuéme: Yes, every tournament, FIFA graces us with their usually interesting choice of mascot and the Women's World Cup is no exception. Meet Shuéme the great white owl! FIFA says Shuéme has "colours that symbolise peace and fair play, and with stylish hair that exudes self-confidence and pride, Shuéme's flowing contours suggest grace under pressure, while her wings and tail ensure precise control and agility." While we are all impressed with Shuéme's grace under pressure, she is a big step up from the previous Women's World Cup mascot in Germany 2011 which was a giant cat named Karla Kick. Oy. The Men's mascots aren't much better. We are still trying to figure out what Ato, Kaz and Nik are from the South Korea/Japan 2002 games. 
Follow all the excitement of the World Cup Russia 2018 on Telemundo Deportes: Copa Mundial de Fútbol Rusia 2018