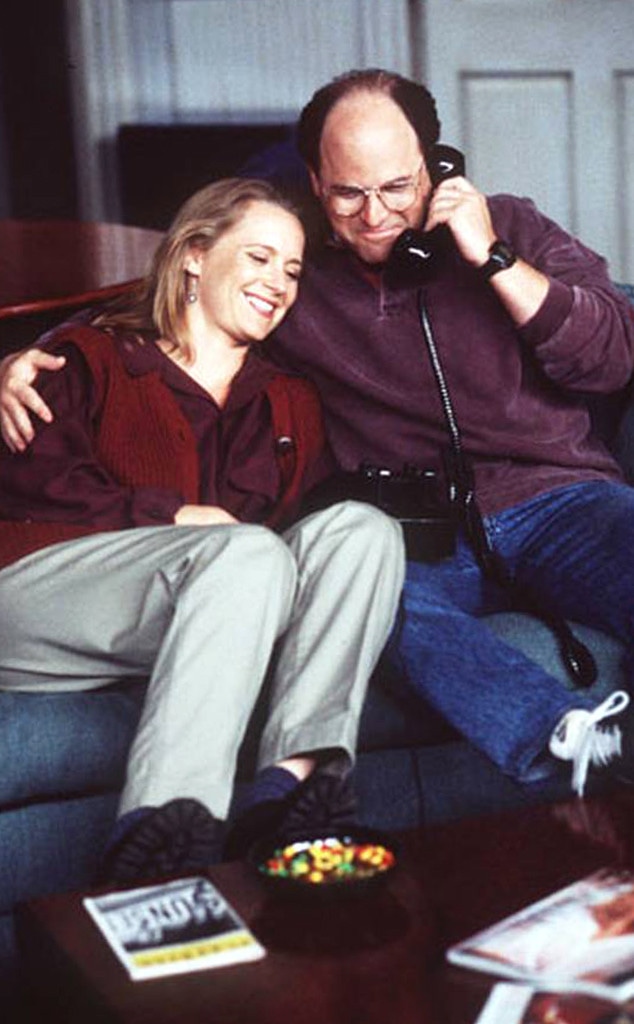 NBC
Like most Seinfeld fans, we still haven't gotten over the death of George's fiance Susan Ross back in season 7. 
Just kidding. She was actually kind of a pain (after all, she was the one who ruined George's potential relationship with Marisa Tomei). What we actually haven't gotten over, however, is how shockingly out of the blue her death was. In case you've somehow forgotten, Susan died suddenly after licking the toxic glue on the cheap envelopes George had decided to order for their wedding invitations. 
After the strange and sudden death, rumors started swirling that the character was killed off because Jason Alexander didn't like working with the actress, Heidi Swedberg. Finally, now almost a decade later, Howard Stern got Alexander to set the record straight on the supposed feud. "The actress is this wonderful girl," Alexander says in the interview that aired on this morning's Howard Stern Show. "I love her. She's a terrific girl."
So what was the problem? Turns out it's a simple matter of comedic instincts. 
"I couldn't figure out how to play off of her," the actor continued. "Her instincts for doing a scene, where the comedy was, and mine, were always misfiring. She would do something, and I would go, OK, I see what she's going to do, I'll adjust to her. And then it would change."
Unfortunately, Alexander's coworkers didn't quite see what was going on. "I had done three episode with her and Larry [David] calls me up at the beginning of the season, and says, 'Good news, I got a great arc for you this season.' I said, 'Oh that's great, who do I get engaged to?' He said, 'Susan.' I went, 'Oh great, who's going to play George?''
Costars Jerry Seinfeld and Julia Louis Dreyfus also didn't quite see a problem, and told Alexander at their weekly post-episode dinners that he didn't know what he was talking about—until they also had to do scenes with her. "You know what? It's f--king impossible!" Alexander quotes Seinfeld and Dreyfus as having said after finally having to work with Swedberg. 
Then, it was Dreyfus who gave Larry David a way to end the season by saying, "Don't you wanna just kill her?" 
Thus, we were treated to one of Seinfeld's strangest endings ever. 
"Every time I tell this story I cringe, because Heidi is the sweetest person ever," Alexander said, and we believe him, because we're fairly sure only the sweetest people become serious ukelele players.
Luckily, thanks to Seinfeld finally joining the world of streaming TV when it comes to Hulu on June 24, we'll soon have lots of opportunities to watch and analyze those awkward Susan scenes as many times as we want!
UPDATE 6/4: Alexander took to Twitter to apologize to Swedberg. "OK folks, I feel officially awful," he wrote before explaining why he told the story about Swedberg's character's death. He said he liked—and still likes—Swedberg, but he always believed something was off and he never meant to put the burden on her.
"Heidi would always ask if there was anything in the scenes she could do or if I had any thoughts. She was generous and gracious and I am so mad at myself for retelling this story in any way that would diminish her. If I had had more maturity or more security in my own work, I surely would have taken her query and possibly tried to adjust the scenes with her. She surely offered. But, I didn't have that maturity or security. And, Larry and Jerry would probably have killed me as it was all playing exactly as they wanted. Clearly Susan and George were coming off just the way they wanted," he wrote.
Alexander pleaded with press not to "pervert" the story. "No one told Heidi to do anything different—and she surely would have, if asked. And no one that I am aware of, including myself, didn't like her. And now with distance, I can look at those episodes and see that there was a fun relationship there between George and Susan. It works perfectly. I simply couldn't see it or find it at the time.
"To Heidi, I personally apologize. You are a sweetheart. I actually launched into this on Stern to defend you. But this is why I'm not a lawyer. Now everybody, calm down and just enjoy the reruns and think, 'why did he think this wasn't working? This is great.'"
Originally published on Wed., June 3, 2015, 8:43 p.m.