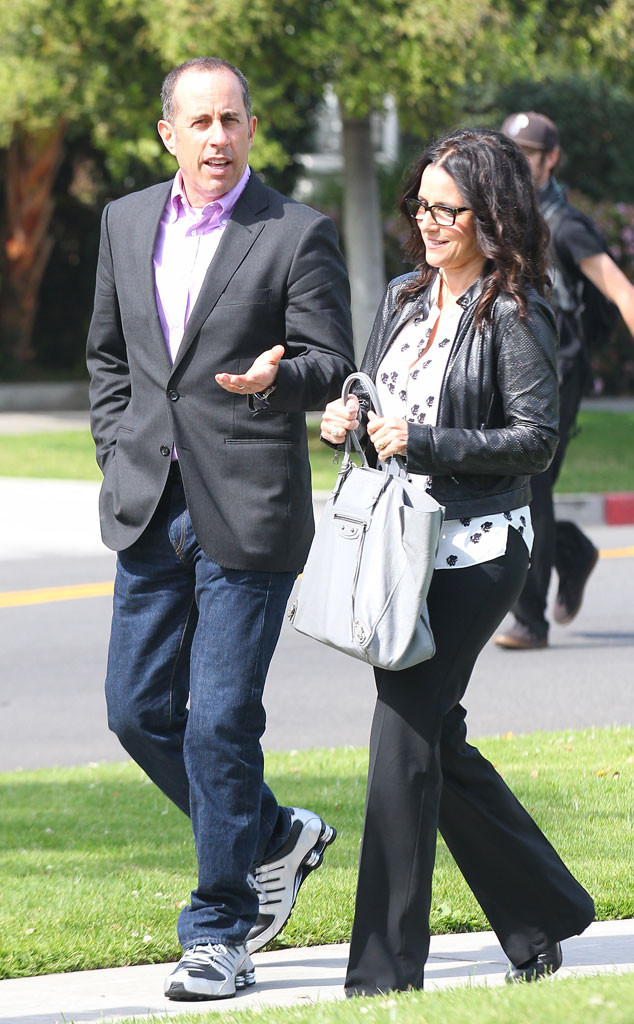 Splash News
This is the best coffee run we've ever been a part of!
After seeing the photos on-set and watching the sneak preview again and again, fans of Jerry Seinfeld and Julia Louis Dreyfus finally got the reunion they've been waiting for Wednesday night.
As part of Seinfeld's popular series titled Comedians in Cars Getting Coffee, the former co-stars hopped in a fancy ride before going on a James Bond-inspired mission to the nearest diner for some drinks and chatter.
It was everything you could imagine—the funny banter back and forth, running into Hilary Swank because its Hollywood, Drefyus dissing Seinfeld's interpersonal skills (but making note that he's nicer than Hitler).
At one point in the hilarious episode, Seinfeld and Louis-Dreyfus have each other in stitches while strolling around Los Angeles. "You are the James Bond of comedy," Seinfeld told the 54-year-old actress. "Whatever the mission, you come in and kill it."
And whaddya know?! They weren't happy with their coffee! Apparently, it wasn't hot enough. Don't worry, Julia was the one to bring it to the barista's attention.
But it was the trip down memory lane and the "love you" at the end that just tugged at our hearts.