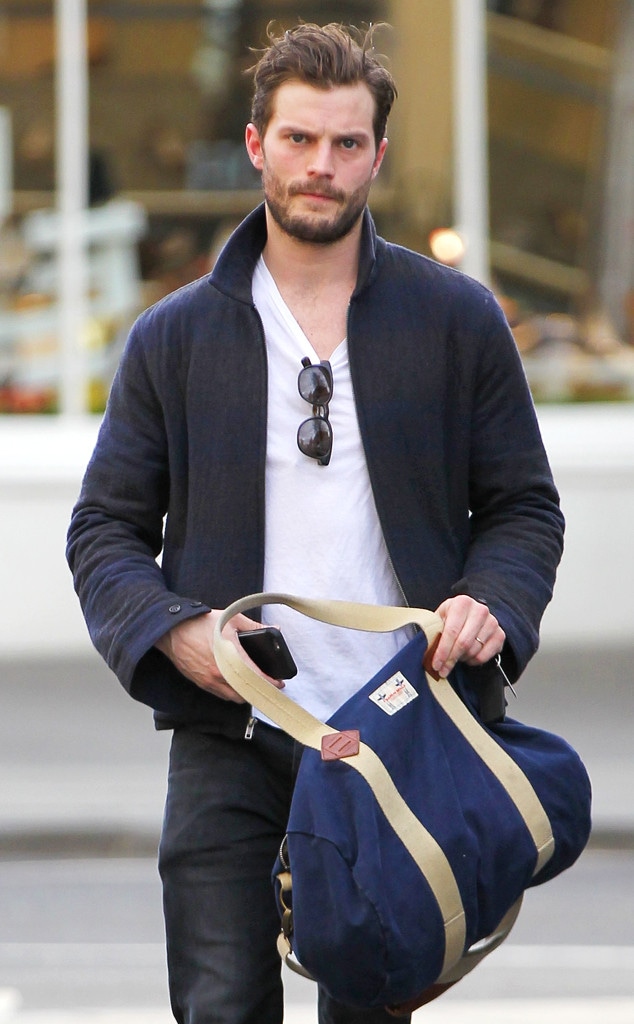 Xposure/AKM-GSI
Jamie Dornan isn't officially a Twitter quitter yet, but his posts have been few and far between now that the Fifty Shades of Grey promotional blitz has passed.
In an interview with Gold Derby editor Daniel Montgomery, the 33-year-old Northern Irish hunk admitted he's been "actively trying to avoid social media and stuff" because it can be a bit, um, intense.
Of course, going from working actor to world famous sex symbol would be overwhelming in and of itself, right? Not really, because according to Jamie, the fame "doesn't feel that palpable until you're online"—hence why he's staying away from the Twitterverse and all related spheres for the time being.
If he does log on to that @JamieDornan handle, the fame "suddenly just feels....like it's real, that there are all these people who are interested in what you're doing."
But as Jamie told Gold Derby, his increased stardom "doesn't seem to have a huge effect" on his everyday life. "I mean, we live a pretty quiet life," he explained. "My wife [Amelia] and I and our baby...we're not massively aware of it, we just go about our day. We're not chased down the street or anything."
"There's obviously a bit more interest and you notice people whisper here and there," he went on. "But it's not out of control at this stage, I'm pleased to say."
He's "far less aware" of his celebrity, he said, than if he were "actively on Twitter." That's why, he noted, "I step back from all of that, because it's unhealthy."
"Another thing that's been good is that I've been consistently working," he went on. "When you're working, you're so in that—you're going to work, and you're coming home and being with family, then you're going back to work...you're in this kind of bubble."
And in that blissfully oblivious-to-fame bubble, Jamie's just another working dad! If you're in dire need of a Christian Grey fix, though, you're in luck: Grey, E.L. James' fourth book in the Fifty Shades series, comes out  June 18—Christian's birthday.
That not good enough for you? Well, you can see Jamie himself back in those jeans playing that character in Fifty Shades Freed, which is set for a Feb. 10, 20176 release. Oh my!