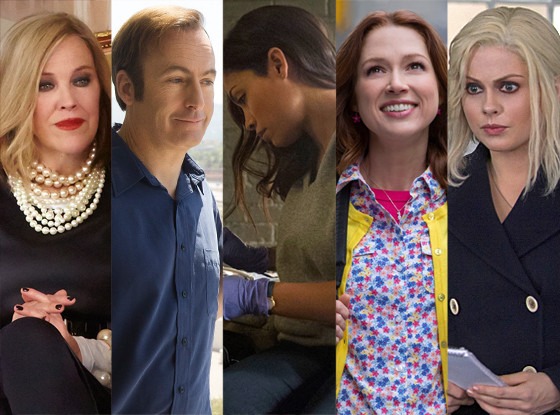 CBC; AMC; Netflix; CW
Last year there were a staggering 352 scripted TV shows across platforms, including streaming. Add in unscripted and reality? So. Much.TV.
With that amount of content—some good, some terrible, some harmless—it's easy to miss some of the true gems out there. And there are actually, honest to goodness gems out there this season! If you're like us, you're using your summer vacation to play catch-up and clean up those instant queues and DVRs. So here's a little (hopefully) helpful guide to shows that may have missed this year. They should definitely hop to top of your watch list.
Eric Liebowitz courtesy of Netflix
Unbreakable Kimmy Schmidt
For some reason, Netflix didn't send an email to users heralding Kimmy Schmidt's arrival. But Kimmy Schmidt is here! And it's GOOD. Tina Fey and Robert Carlock's voices are very present and that's a great, great thing. The whole thing was shot before Netflix took over the show from NBC, so as you watch just imagine what they'll be able to do in season 2. Tituss Burgess is a revelation.
The Comeback
Ten years ago The Comeback debuted. Then it was canceled. But then it came back! Valerie Cherish is one of the best TV characters ever. Seriously. Lisa Kudrow is just so damn good that you need to go back and (re)watch season one and then dive deep into season two. You'll laugh, you'll cry (if you're human) and your life will be changed.
iZombie
More Veronica Mars than The Walking Dead, iZombie is FUN. Rob Thomas, your voice has sure been missed on TV.
Schitt's Creek
This fun comedy debuted on Pop (the former TV Guide Network) this spring. If you love Catherine O'Hara—WHO DOESN'T?!—this will be your jam.
The Flash
Fun, poppy and flashy (oops, yep, said it), The Flash is pure entertainment. If you watched it all already, binging will still be most satisfying.
The X-Files
Yes, The X-Files ended 13 years ago, but unless you've been living under an Internet-less rock, you know Mulder (David Duchovny) and Scully (Gillian Anderson) are back on the cast this fall. Even if you watched the show during its original run, now is a good time to revisit the beloved franchise. Never seen it? It holds up, save for some effects, and is quite the perfect summer ride.
Better Call Saul
If you started watching Better Call Saul expecting Breaking Bad 2.0, well, you didn't get you were expecting. Better Call Saul is a whole different, yet still enjoyable, beast. Bob Odenkirk and Jonathan Banks won't disappoint. But you also need to be prepared that this isn't immediately the Saul Goodman you came to know and love on Breaking Bad. This is his journey.
The Real Housewives of New York City
Did you leave the RHONY fold after Scary Island? During Aviva Drescher's tenure? Come back. The show is funny and absurd at the same time and highly watchable, thanks in part to returning star Bethenny Frankel.
Daredevil
One of Netflix's buzzier shows, Daredevil came out at a rough time for viewers—the weather was just getting nice and all the shows were still new. However, the latest Marvel series is truly a spectacle to behold. The fight choreography is amazing. If you've been burned by other superhero shows that don't really "go there," well, Daredevil is for you.
The 100
This is the greatest show that no one is watching. The CW's criminally underrated sci-fi action drama is so gritty, dark and twisted that you'll forget what network it's on. Seriously, it's that good. While the first three episodes of the series do revolve around a love triangle (it had to start off as CW as possible to get ordered to series!), that quickly gets nixed and the real s--t hits the fan in episode 4, and the pace never lets up after that. Set aside two days for binging its two short seasons...you won't regret it. —Sydney Bucksbaum