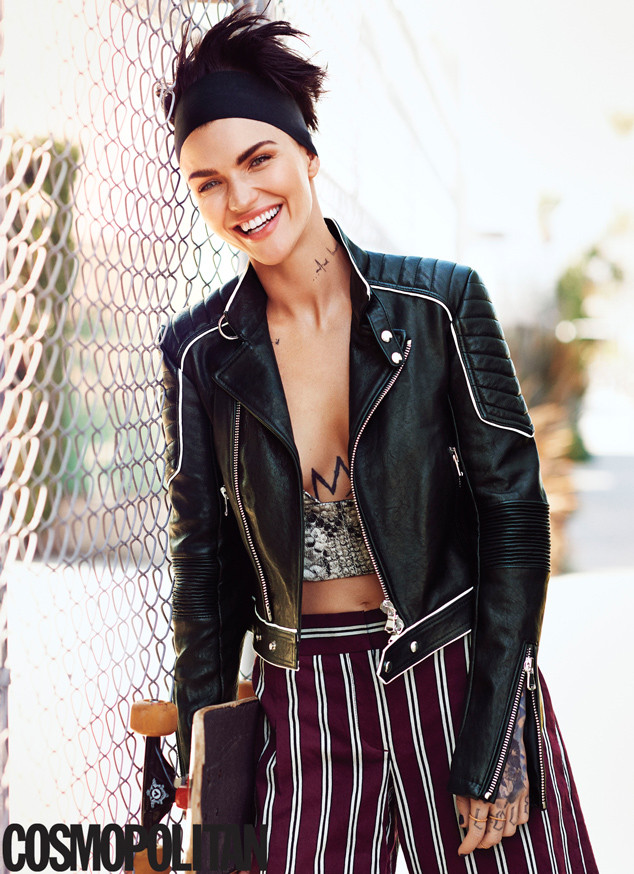 Tom Schirmacher/Cosmopolitan
Ruby Rose has a lot to be happy about these days—she's happily engaged to designer Phoebe Dahl and has a role on the upcoming third season of Orange Is the New Black!
There was a time, though, that the 29-year-old Australian star wasn't fully content with her life. As she tells Cosmopolitan, "For a long time, I wished I'd been born a boy."
"I didn't know there were options like gender neutral or gender fluid," she explains. "I later realized you could be a girl and dress like a guy….As soon as I met [my fiancée] Phoebe, I knew. She's everything that I would want in somebody. She's talented, she's funny, and she also has this charitable, giving side."
Tom Schirmacher/Cosmopolitan
The model-turned-actress and Phoebe, granddaughter of author Roald Dahl, announced their engagement news in March 2014 via Instagram. Prior to this, Ruby had identified publicly as a lesbian, but after the July release of Break Free, her short film about gender roles, she began to describe herself as gender fluid. In an interview with the U.K.'s Guardian, she explained that she doesn't identify as one gender or the other. "I feel like I'm neither, yeah," she said. "Well, if I had to choose it would be a boy, a guy. I feel like I'm a boy, but I don't feel like I should've been born with different parts of my body or anything like that. I feel like it's just all in how I dress and how I talk and how I look and feel, and that makes me happy."
She explained that she's "lucky enough to have accepted my body," adding, "I think at this stage I will stay a woman but…who knows. I'm so comfortable right now I feel wonderful about it, but I also fluctuate a lot."
For much more from Ruby about her personal life, upcoming OITNB role and much more, check out her full interview in Cosmopolitan's July issue, on stands June 7.
Tom Schirmacher/Cosmopolitan