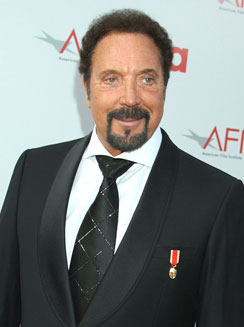 Jeffrey Mayer/WireImage.com
In the heady world of show business, where romantic relationships, let alone actual marriages, have the life span of gnats, veteran sexual troubadour Tom Jones has written a love song to his wife of 51 years.
Despite a decades-long career as an international sex symbol that includes a paternity suit, numerous highly visible couplings with women around the globe and countless panties, bras, thongs, stiletto heels, hotel room keys and beverage napkins bearing phone numbers heaped upon him at live appearances, Jones' new song The Road is a testament to his indestructible love union with wife Linda Jones.
"This proves marriage can work," stated thrice-divorced Dr. Armond Ralphs, currently single, of the American Institute for Marriage Research. "Women just have to wake up to reality."