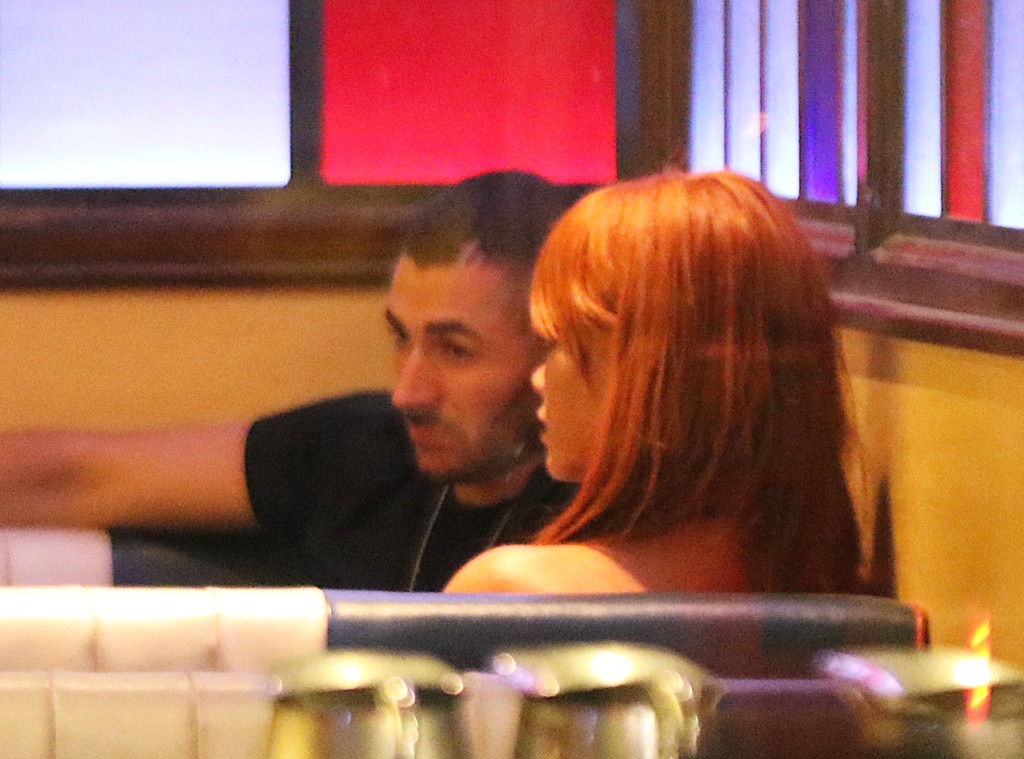 PacificCoastNews
Has Rihanna just found a new summer romance?
That's the latest rumor circulating around after the "Diamonds" singer stepped out Tuesday morning for an early morning (or should we say late night) meal with Karim Benzema.
Wearing ripped denim jeans, a plunging tank-top and leather jacket, the Grammy winner didn't let a few rain drops stop her from visiting Coppelia, a 24-hour Cuban diner in New York City, with her guy friend.
"Rihanna and Karim were seating across from each other," a source revealed to E! News. "There were about four people at the table and a few more in another table from the same party."
The insider added, "They came separately and they were speaking French at some point." 
If you're really curious about the meal, E! News has learned they both ordered eggs with Benzema choosing egg whites. Such a healthy choice, you athlete!
Earlier in the night, the pair was spotted hitting up The Griffin nightclub in the Meatpacking District of New York City. While we have no official confirmation that the pair was being romantic or flirty, romance rumors first sparked last year when Rihanna tweeted a message to the Real Madrid footballer by writing "@Benzema I feel your pain right now!"
He then reportedly responded with a message, "@Rihanna No Pain no gain, thanks for the support!" Awww!
Romance rumors aside, Rihanna may be a bit too busy to have a relationship this summer. In a recent interview with V magazine, RiRi discussed all of her exciting projects that includes her eighth studio album.
"I didn't actually take time off," she told the publication. "The past two years are the hardest I've ever worked. I've been working on two albums, an animated film, shooting for multiple magazines, designing for Puma and Stance, a new line of fragrances, a summer tour, I launched my first annual Diamond Ball at the end of last year, and I've also been developing several projects to be revealed in the near future."
Well with that in mind, we're just impressed she was able to enjoy a morning meal with anyone!
—Reporting by Baker Machado