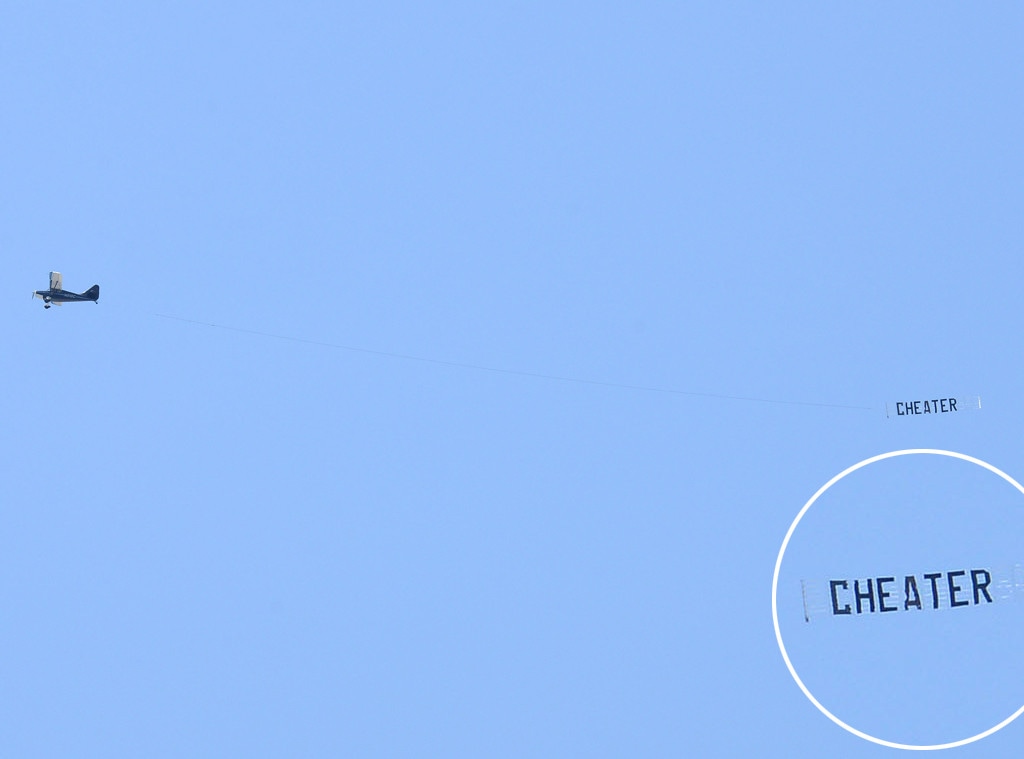 KM/FAMEFLYNET PICTURES
We presume this left a bad taste in Bobby Flay's mouth. 
On Tuesday, the 50-year-old Food Network star received a star on the Hollywood Walk on Fame—the first celebrity chef to do so. 
But during his speech, fans happened to take notice of the green prop plane flying overhead, which carried a banner that read "cheater." An eyewitness says the plane appeared just as Flay took the stage and continued to circle the area until the cookbook author was finished speaking. 
While there's no confirmation, many are speculating the insult was aimed at Flay, who filed for divorce from Stephanie March in April after 10 years of marriage and has been accused of cheating on the Law & Order: SVU actress. 
In April, the native New Yorker vehemently denied the allegations, including a report in Page 6 which claimed he had a secret three-year relationship with his assistant Elyse Tirrell. 
"We will continue to refrain from responding to the continued efforts by certain parties to spread rumors and innuendo," Flay's rep told E! News. "This specific allegation was in a letter sent from one attorney in this case to the other. It was written and then leaked specifically to try to insert this story into the press, and that's unfortunate. Even more unfortunate is that all of this is being done in order to renegotiate a pre-nuptial agreement that was agreed to over a decade ago and never amended during the marriage."
Cindy Ord/Getty Images, Rob Kim/Getty Images
March and Flay are currently at odds over their decade-old prenuptial agreement. The actress' lawyer, Deborah Lans, previously told E! News there are "profound issues" with the contract. 
"I'm confident a court will consider the agreement to be unconscionable," she said. 
Meanwhile, following the pair's much-buzzed-about split, the celebrity chef has been linked to fellow Food Network star Giada De Laurentiis, although her rep quickly shot down the romance rumors when asked by E! News for comment. 
"Back in December, Giada had dinner at Bellato with her agent. Bobby Flay was also having dinner with some friends and dropped by Giada's table to say hi," her rep told E! News. "They did not have dinner, nor was there any touching going on."
Watch:
Bobby Flay Gets Flayed at Hollywood Star Ceremony