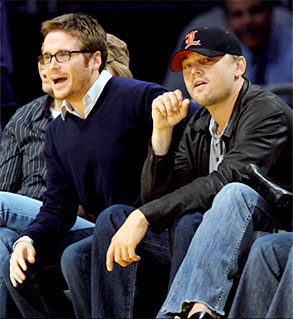 RAMEY PHOTO
Here are Leonardo DiCaprio and Kevin Connolly hitting up a Lakers game in Hell-Ay, right before partying away at Apple Lounge in WeHo last night. Dudes went straight upstairs to a table full of girls. Hope they know how to share.
Brandon Davis and Rick Salomon, two users who know Paris Hilton all too well, joined the duo. "They were all sitting at a table, and Leo, who was wearing a hat, kept trying other people's sunglasses on," says a fellow Apple enjoyer. "It was funny!" We're on the floor.
Now, L.D. and K.C. are certainly the true meaning of bromance, right? Leo and Kev, including third bro Tobey Maguire, who musta been pumping iron for the fourth Spidey sequel last night, have been BFF since working together in 2001 on Don's Plum.
There's also: