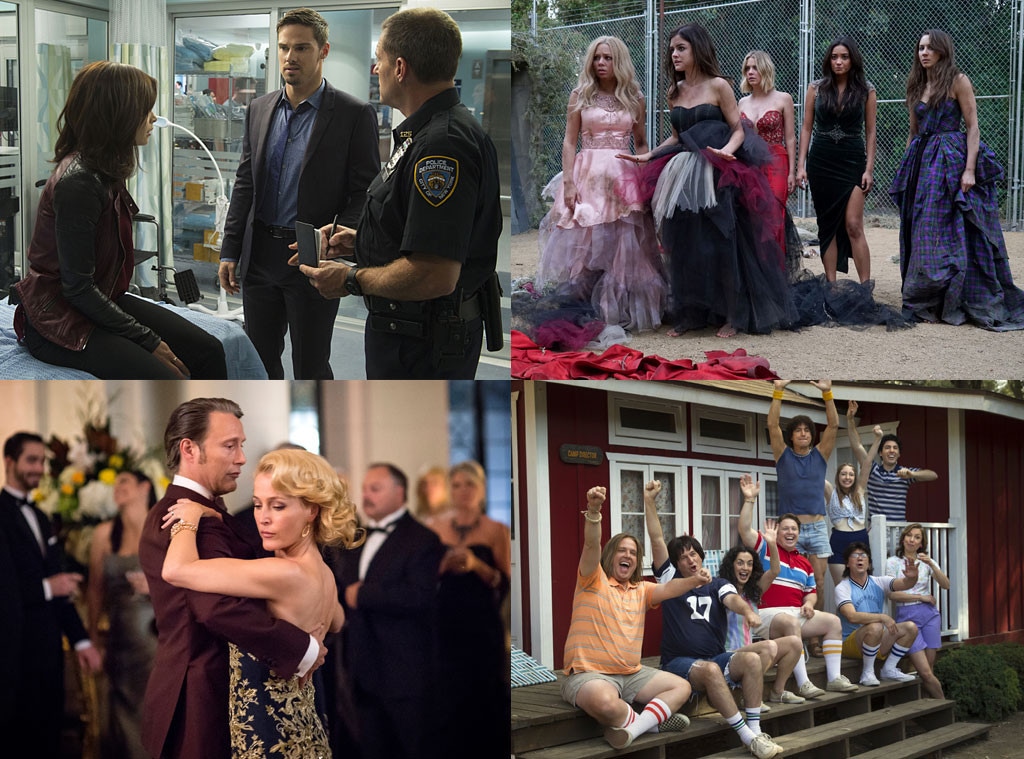 ABC, NBC, CW, Netflix
Ah, summer, our favorite season! The sun is shining, grills are sizzling, the beach is calling...but we can't seem to get up off our couches thanks to all the amazing TV that's premiering!
Yup, 2015's summer months are going to be chock full of new and returning shows that we can't wait to see. Who needs pool parties when you've got a full DVR to get through?!
But when is everything kicking off? Check out our handy summer TV premiere calendar below and get ready to mark your calendars!
ABC Family/Eric McCandless
Pretty Little Liars season six premiere: Tuesday, June 2, at 8 p.m. on ABC Family
Get ready for the summer of answers! The huge reveal that "A"'s name is Charles DiLaurentis is going to be nothing compared to what's coming next. "I would say at least four huge things happen, maybe more," Sasha Pieterse tells E! News about the premiere. "It's huge. The whole season in general, you're getting tons of information."
Stitchers series premiere: Tuesday, June 2, at 9 p.m. on ABC Family
This new sci-fi drama centers around a beautiful teen who is recruited by a secret government organization to hack into the minds of dead people to solve their murders. Think of a mix between iZombie and Minority Report.
Hannibal season three premiere: Thursday, June 4, at 10 p.m. on NBC
Pour the chianti and settle in, Fannibals! Hannibal has fled the country to Europe with his former psychiatrist, Bedelia, after getting exposed to everyone who knows him as a cannibalistic serial killer, and Will is dead set on hunting him down. Plus, the Red Dragon finally makes his debut!
Beauty and the Beast season three premiere: Thursday, June 11, on the CW
It's the season of VinCat! Cat and Vincent are finally free from the dangers of Muirfield and that's giving them time to work on their relationship...but when a new threat emerges, will they be able to overcome the odds and stay together?
Orange Is the New Black season three premiere: Friday, June 12, on Netflix
Vee is officially dead and gone, but that doesn't mean life at Litchfield is going to get any easier. Alex is back, and a new super-attractive inmate arrives in prison, guaranteed to make all the ladies swoon.
The Astronaut's Wives Club series premiere: Thursday, June 18, at 8 p.m. on ABC
Based on the book by Lily Koppel, this new series follows the wives of a few American astronauts as they're sent on life-threatening missions, and as a result, experience both fame and tragedy.
Complications series premiere: Thursday, June 18, at 8 p.m. on USA
When Dr. John Ellison, still recovering from his daughter's death, intervenes in a shooting, he learns the boy he saved remains a target. That good deed sparks a chain of events that force John to become an unlikely vigilante hero, drawn into a gang war where he must often do the wrong thing for the right reasons.
True Detective season two premiere: Sunday, June 21, at 9 p.m. on HBO
The dark and gritty follow-up to the critically acclaimed season one features a whole new cast of characters and investigation, meaning if you missed out on last year's hit season you don't have to binge to get caught up! Jump right in with a highway patrolman (Taylor Kitsch) as he discovers a horrific murder, kicking off a chain of events that will bring in two LAPD detectives (Colin Farrell and Rachel McAdams) and a corrupt businessman (Vince Vaughn).
Teen Wolf season five premiere: Monday, June 29, at 10 p.m. on MTV
It's senior year, y'all! Scott may be focused on the future, but Stiles wants to keep the pack together by any means necessary. Of course, college plans are going to be put on hold when a new, terrifying group of villains make their way to Beacon Hills, and they've got their sights set on Scott. Yikes.
Scream series premiere: Tuesday, June 30, at 10 p.m. on MTV
Spoiler alert: this isn't a sequel or prequel to the movies we all love so much. This is a completely new reboot, one without Ghostface at all and a whole new cast of characters. But it's still promising to be as bloody and brutal as all the movies, so we are in!
Masters of Sex season three premiere: Sunday, July 12, at 10 p.m. on Showtime
Time for a time jump! Season three picks up five years later in 1966, with Masters and Johnson finally ready to educate the general public on their studies of human sexuality. Get excited for new faces Maggie Grace, Isabelle Fuhrman, Josh Charles and Tate Donovan, as well as returning players Allison Janney and Beau Bridges to pop up this season.
Sharknado 3: Oh Hell No! premiere: Wednesday, July 22, at 9 p.m. on Syfy
Ian Ziering, Tara Reid and sharks are back for round three. What more do you need to know?
Wet Hot American Summer: First Day of Camp series premiere: Friday, July 31, on Netflix
This prequel to the fan-favorite, cult comedy movie Wet Hot American Summer may be coming 14 years later, but it truly is a prequel: the movie was the last day of camp. This Netflix series is, natch, the first day. It's a good thing this cast did not age at all! And the stacked cast just keeps on getting more and more awesome: newcomers to the franchise include Chris Pine, Jon Hamm, Jason Schwartzman, Kristen Wiig, John Slattery, Michaela Watkins, Josh Charles and Lake Bell.
Playing House season two premiere: Tuesday, August 4, at 10 p.m. on USA
It's back, Jammers! TV's most underrated comedy is returning for a second season and we could not be more pumped. If you haven't seen its flawless first season, now's the time: binge, binge, binge!

America's Next Top Model season 22 premiere: Wednesday, August 5, at 8 p.m. on the CW
Another round of hopeful models enters, and only one will leave victorious. Better brush up on your smizing!
Awkward season five premiere: Monday, August 31, at 9 p.m. on MTV
The first half of season five kicks off in the last few weeks of high school, and Jenna and her friends must make the most of it. Everyone has already figured out what they are going to do next year, but there is a sense that "anything could happen" lingering in the air. Get pumped for all the big senior year milestone moments, like senior pranks, prom and graduation.
So put away your sunblock and stock up on your favorite snacks: it's TV time!