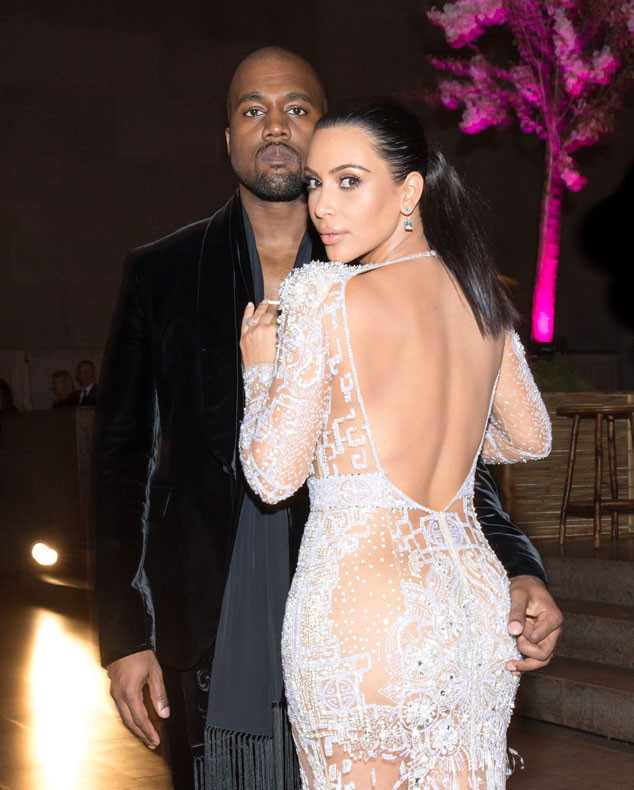 SIPA USA
Finally, some good news for Kim Kardashian and Kanye West!
As E! exclusively revealed tonight, the 34-year-old Keeping Up With the Kardashians star and the 37-year-old "Bound 2" rapper are expecting their second child. Daughter North West turns 2 on June 15.
As Keeping Up With the Kardashians viewers know, though, Kardashian's road to motherhood was full of speed bumps the second time around. "I grew up with siblings, so if I could just snap my fingers and have four, I would have four," she said on NBC's Today in August 2014. "But I do realize I'm going to have to go through the pregnancy again. Mine was a really difficult pregnancy. It's tough. Of course I want to have another child. We'll see. I'm going to have one more, and see what it's like."
She echoed those sentiments in Elle U.K.'s January 2015 issue.
"I want a boy and another girl; I want it to start happening straight away. I loved being part of a huge family—and I want that for North. We'd do IVF if nothing happens, but we both want to keep trying naturally," she said. "A few years ago I was told I could never get pregnant. Three different doctors told me the same thing, which is why I wanted to have my eggs frozen. I was just about to do that when I found out I was pregnant with North."
Little did she know that it would be a long time before she had another bun in the oven. "I've been having sex 500 times a day," Kardashian told her siblings in Season 10 of Keeping Up With the Kardashians. "You gotta get it in where you can get it in."
The couple continued on their quest to conceive, and Kardashian even saw a fertility specialist on multiple occasions. Eventually, she decided to try something different. "I have done everything so perfect to try and get pregnant. I eat differently—no sugar. You can't dye your hair. Literally, teenagers on, like, meth get pregnant in two seconds," she joked to E! News' Ken Baker in March. "I figured I'm going to do everything that I want to do, and that includes going platinum. Hopefully I will get pregnant doing all the wrong things! I'm totally changing my tactics." Asked if she was really having sex with West "500 times a day," she laughed and said no. "It's about 15. Too much! Actually, not too much—but whatever! It's always crazy. When you don't want to be pregnant, it happens. When you want it..."
Related:
Kim K. Trying All the Wrong Things to Get Pregnant
"Actually, the doctor said he thinks I'm having sex too much. He said, 'One time is more powerful.' This is, like, way TMI! So, you know, we've tried everything. So now I'm kind of over it. I'm over trying. I'm over over-thinking it, hence why I dyed my hair blond," she explained. "I'm going to do everything—drinking coffee, eating chocolate. There's a list of things you shouldn't be doing and I was perfect for a good eight to 10 months, and now I'm like, 'I don't understand, so I'm going to do whatever I want and I'm going to dye my hair platinum.'"
She added, "Hopefully when I do all the wrong things, maybe it'll just happen."
In early May, Kardashian said she and West were trying "every single day" to get pregnant. "You can't try harder than we try! It's getting exhausting," the Selfish author told E! News' Catt Sadler. "He always said, 'Trying for Baby No. 2 isn't as fun as Baby No. 1.' I did go through a lot with the delivery, and so we faced a couple challenges, but we're literally trying everything that we can to make it happen."
Related:
How Kim K. and Kanye West Will Celebrate 1st Anniversary
Shortly after, Kardashian opened up to Today's Matt Lauer about her infertility struggles. "They say if you've been trying for a year, then you usually need a little bit of help. I had a tough delivery, so I understand what my challenges are," she said, recalling her daughter's early birth in 2013. "I mean, I'm seeing the best doctors and I'm trying to do everything that I can to make that happen."
Asked if she would ever consider using a surrogate or adopting, an optimistic Kardashian replied, "I would like to hold out a little bit longer, and still try. I still have hope, so I'm just going to keep on trying. Never say never."
(E!, CNBC and NBC are all members of the NBCUniversal family.)